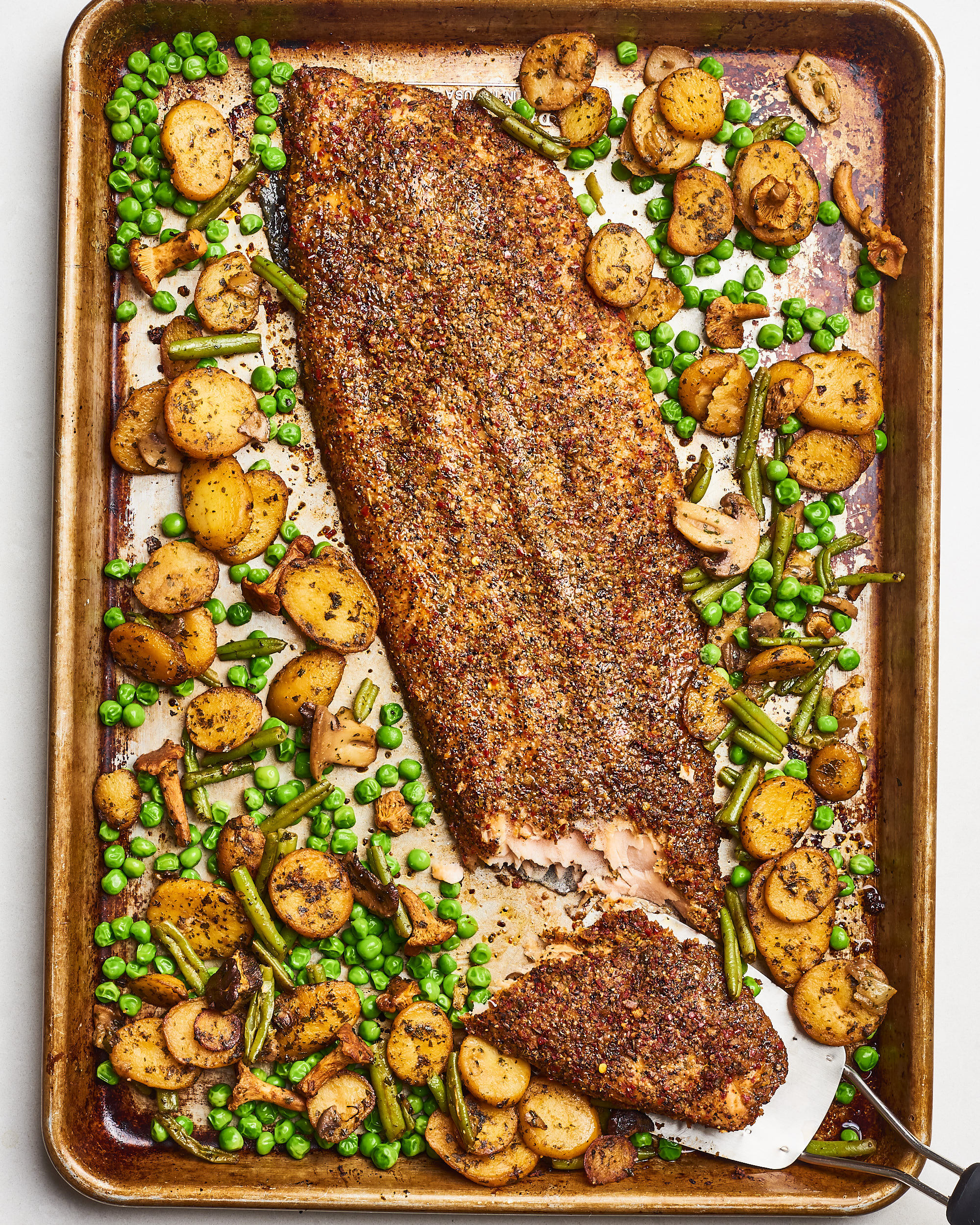 It's hard to beat the ease of a sheet pan dinner. Toss a few things on a baking sheet, pop it in the oven, and in next to no time at all you have a well-rounded meal that requires barely any cleanup.
This recipe gets bonus points for being made from just a few frozen ingredients. There's no washing of vegetables, chopping, or even defrosting required. Instead, you simply need to schedule a trip to the freezer section of Trader Joe's.
An Easy Salmon Dinner in 30 Minutes
Making salmon for dinner typically requires a last-minute trip to the store to pick up fresh fillets, or enough time set aside to defrost a frozen package. This recipe has you roast a nice piece of salmon straight from frozen, so there's no planning or grocery trips needed. The salmon itself is also already seasoned, making this sheet pan meal even easier.
Trader Joe's Sheet Pan Crispy Salmon & Veggies
Ingredients
1

(1 1/2-pound) side

Trader Joe's frozen 7 Seasoning Salute to Salmon

1

(16-ounce) bag

Trader Joe's frozen Country Potatoes with Haricots Verts

1

(16-ounce) bag

Trader Joe's frozen Peas
Instructions
Arrange a rack in the middle of the oven and heat to 450°F. Lightly grease a rimmed baking sheet with olive oil.

Place the still-frozen side salmon in the center of the baking sheet and roast for 20 minutes.

Carefully empty the bags of potatoes and peas out onto the baking sheet and spread around the salmon in an even layer. Roast until the salmon is cooked through and vegetables are defrosted and warmed through, about 10 minutes more.
Recipe Notes
Storage: Leftovers can be refrigerated in an airtight container for up to 3 days.
Source: Read Full Article