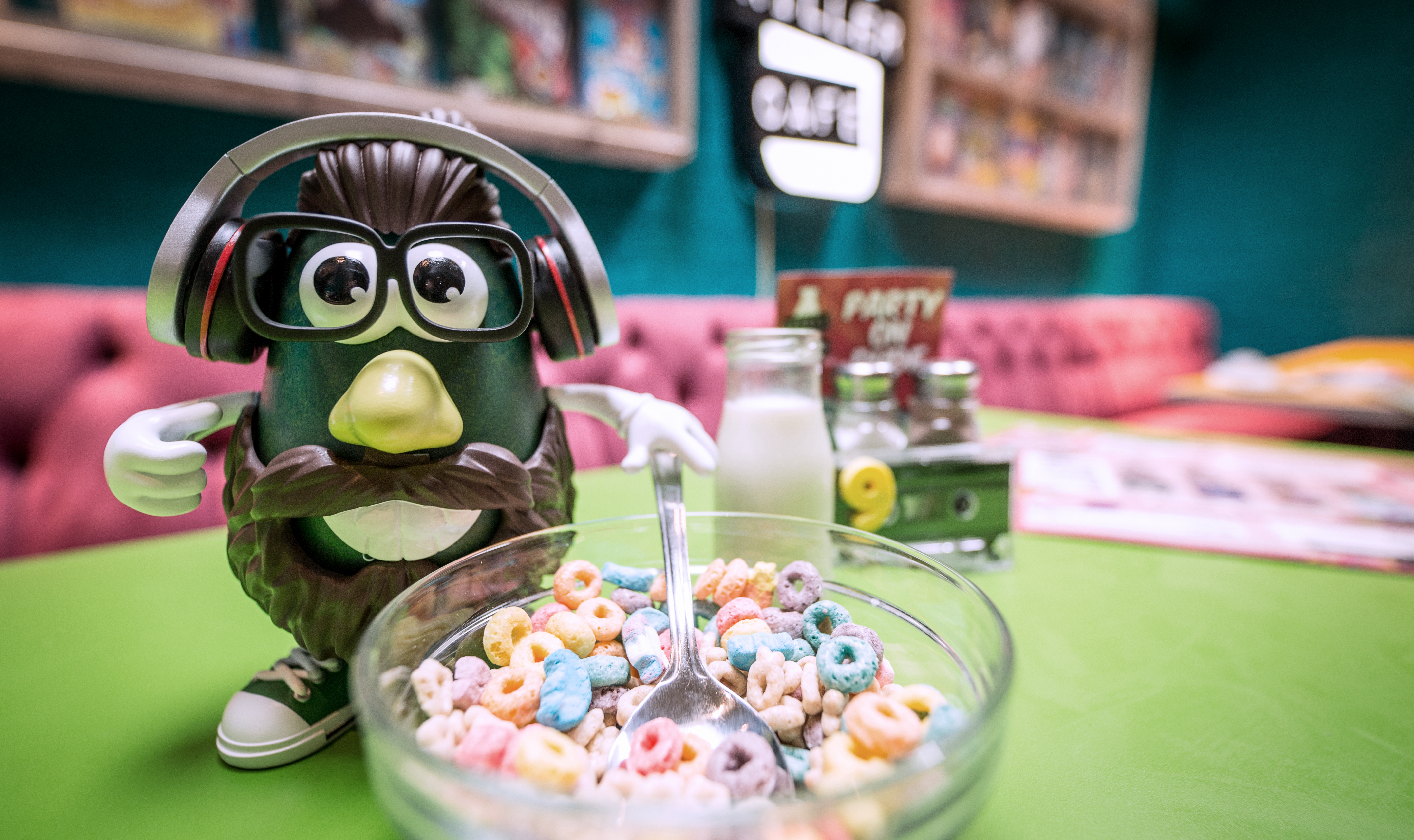 If you're gullible, April Fool's day can be a frustrating 24-hour stretch when you're not sure what's fake and what's real (and in a world where Elon Musk released a song dedicated to Harambe, that's an increasingly difficult task). For the rest of us, it's reminder that some brands still have a sense of humor, and it's entertaining to watch as some of them bend over backwards trying to get a laugh, or even go viral, with their own April Fool's stunts. Here are some of the most creative (and strangest) pranks the food world had to offer this year.
Mr. Avo Head Replaces Mr. Potato Head
Humanity's current obsession with the avocado has finally gone too far: Hasbro announced that it will be replacing the classic Mr. Potato Head with his "trendy, Insta-famous" peer, Mr. Avo Head. Hasbro blames millennials and their incessant healthy eating trends for forcing the company to replace its friendly, carb-based mascot. Mr. Avo Head's got a beard, glasses, and a man bun — basically, he's a total hipster. Thankfully, he's also just a joke.
Nissin Cup Noodle Releases Limited-Edition Noodle Headphones
We all love eating noodles, but there is a slight downside to doing it around other people. The slurping noise is downright obnoxious. That's why Nissin Cup Noodle came up with an ingenious gadget that I wish was real: headphones that cancel out the noise of other people chowing down on their noodles. Plus the "Noodlette™ ear pads" deliver the "silky soft caress of ramen noodles for your ears." Okay, that part is kind of gross.
SodaStream Collaborates with Astronaut Scott Kelly
One problem Scott Kelly — who spent 340 days aboard the International Space Station, the longest of any American astronaut — encountered on his many missions is extremely high levels of carbon dioxide (a gas, which, among other things, makes you burp). But one day while floating in space, Kelly had a realization: The ISS has a system which removes excessive CO2 into water, similar to the SodaStream. Kelly postulates that there must be a way to capture excess CO2 in humans, and thus the SodaStreamME was born. Just blow into the bottle's nozzle and carbonate your own personal sparkling water. Sound too good to be true? It is, but at least Kelly was a good sport about the joke.
HelloFresh Releases Unicorn Box
Oh did you think the unicorn food craze had faded from our communal consciousness? Apparently not, because HelloFresh played on the rainbow food trend to create a cute, colorful April Fool's prank: the unicorn box. The meal kit company joked that the box includes all the tools you need to create a purple, sprinkles-covered cookie pizza, turquoise spaghetti topped with whipped cream, and ice cream tacos. It's slightly disappointing that this is a fake; the candy-covered treats actually look pretty tasty.
FreshDirect Debuts Cauliflower Milk
Oat milk gets a clever send-up from Fresh Direct with all-new plant-based milk: Caulk. It fights cavities, it helps you fall asleep, it's keto-friendly, and it's mood boosting — but it may contain nuts. No longer will you have to milk your cauliflower by hand. This "chunky, lumpy" breakfast beverage might be a prank, but it doesn't actually seem like one. Of all of these, I think this one will be the most likely to fool people.
Bon Appetit Pivots to ASMR
If you like the sounds of whispering voices crunching, squishing, and slurping, and then you're going to love Bon Appetit magazine's new direction: All their cooking videos will now be ASMR-style. The Bon App staff jokes that they will now be squeezing oranges, peeling garlic, and eating Pringles, in front of a microphone so all those super-satisfying sounds will be amplified. Of course, they aren't actually going to attempt cooking this way all the time, but I actually wouldn't mind an ASMR video or two from the magazine.
Siggi's Releases New Hot Dog Flavor
I didn't realize this until today, but the hot dog is actually a classic Icelandic dish, usually served with a sweet mustard called pylsusinnep and topped with raw onions. Siggi's skyr wants to pay tribute to this beloved street food with an all-new flavor called "Ein með öllu": hot dog with all the fixings. Yes, the latest (and least appetizing) iteration of the Icelandic yogurt will feature chunks of lamb hot dog boiled in beer, complete with swirls of pylsusinnep, onion, and ketchup. Just kidding! This is, thankfully, totally fake.
The LA Times Asks If There's Any Good Food in New York City
Okay, this one actually fooled me: The LA Times published an article today bemoaning the lack of good restaurants in New York City, the "culinary heart of darkness." Could a city overrun with rats and black plastic garbage bags offer anything in the way of a delicious meal? Turns out it can. The satirical article claimed that in recent years, a series of "experimental" restaurants have been opening up in New York City serving such "odd" dishes as pizza and bagels, and joked that David Chang is a young chef with a "local following." It's worth reading just so you can get angry about the fact that the paper claims LA has the best deli scene in the country.
Detective Dale Cooper Gives Up (Hot) Coffee
Kyle McLachlan really knows his audience: On Twitter this morning he joked that his iconic character from Twin Peaks, Detective Dale Cooper, would only be drinking iced coffee from now on. One of Cooper's most famous catch phrases is "Damn fine cup of coffee" — he savors that bitter, oily black liquid. The switch to iced coffee would be, quite honestly, a betrayal of all his ideals.
P.S.: Did you see Kitchn's April Fool's joke?
Source: Read Full Article