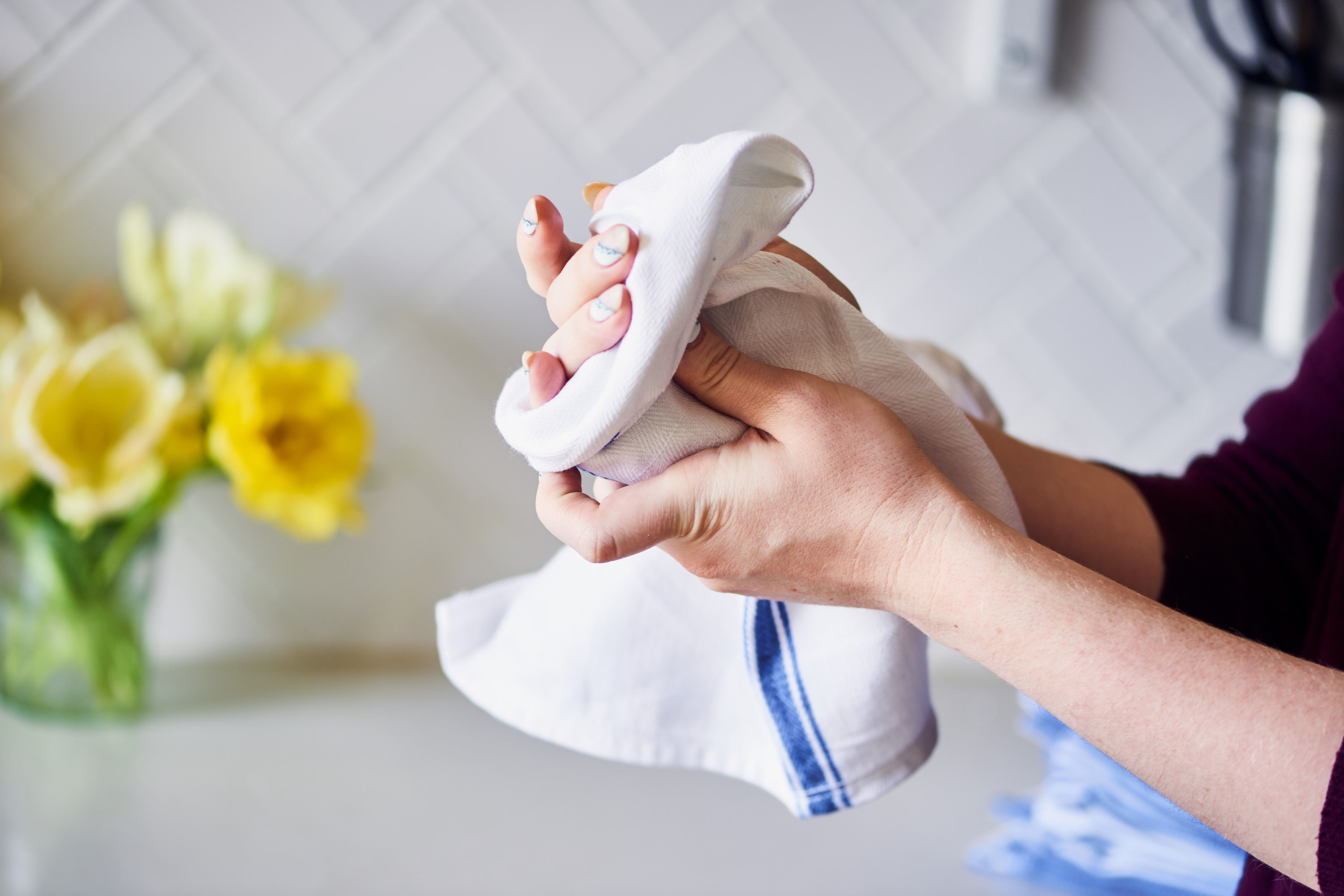 Whether I'm frying a few eggs for myself or preparing a dinner feast for 10, I don't feel confident in the kitchen unless I'm armed with a side towel or two. Side towels, the chef's term for simple cotton cloths slightly smaller than a dish towel, are a multipurpose kitchen tool. They're so great, I guarantee that once you start using them, you won't know how you ever did without.
Although I grew up in a home where paper towels were constantly eschewed for dish towels when it came to drying hands and wiping spills, I didn't really understand the importance of a side towel until I started working with recipes for a living. Efficiency is key when, at any moment, I might need to pull something from the oven, move a skillet onto another burner, dry off freshly rinsed carrots (and then my hands), and repeat, over and over again. The last thing I need on my workstation mid-recipe test is a pile of crumpled, disintegrating paper towels or bulky, sauce-stained oven mitts. And what if I accidentally mop up beet juice with the expensive linen tea towel my roommate bought in Paris because I thought it was a dish rag? That's where side towels come in.
Whether you're casually cooking in your own kitchen or working the line at a restaurant, you're going to want to pick up a set.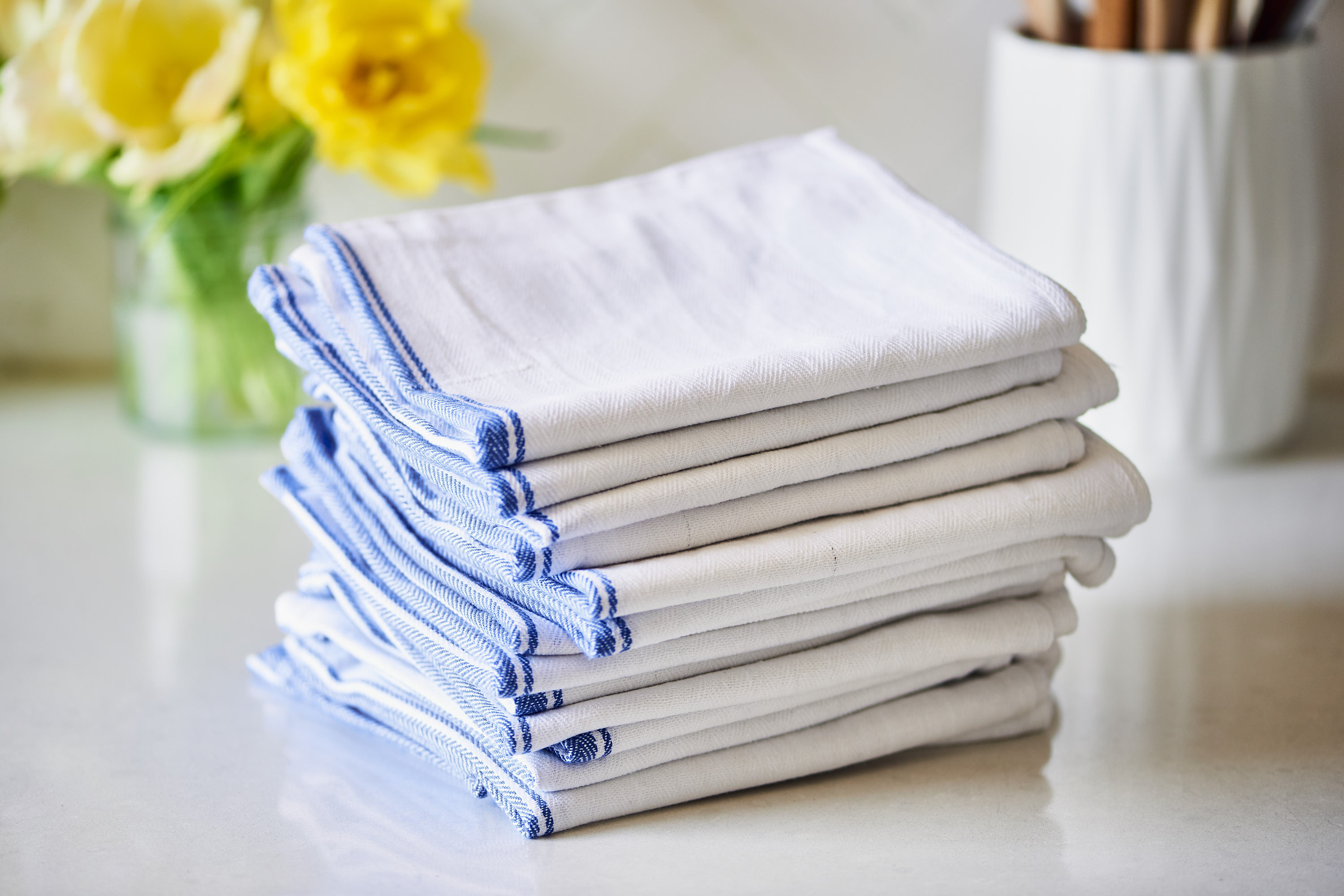 How I Use Side Towels in the Kitchen
Obviously one can deduce based on the name that a side towel can be used to mop up spills and dry damp produce like any other kitchen rag, but these bad boys can do much more. Let's start from the top. Most home cutting boards I've used have a tendency to slide about as I chop. The easiest way to avoid that? Dampen a side towel, wring out the excess water, and lay it out under the board. Presto — a non-slip grip.
Next up: I cook every day and I don't own oven mitts or potholders. Not even one in the back of a drawer. Dry side towels can easily be folded in half or quarters to pull sheet pans from the oven, or rest on the hot handle of a cast iron skillet or saucepan lid. Fold one in thirds vertically and you can grab both handles of a large stockpot to pour out stock, grains, or blanched vegetables.
I like to keep three side towels with me (in addition to the one that's under my cutting board) while I'm cooking: one damp, one dry, and one dirty. The damp towel (it starts dry) is for resting recently rinsed produce and herbs, and to dry off my washed hands. The dry towel is for touching anything hot. (Although two clean towels may seem unnecessary, you don't want to use the damp towel for this, as heat from a hot pan will run right through it.) The dirty towel is for everything else: grease splatter, sauce drips, errant bits of grit and debris. Having a designated cleanup towel will help keep the kitchen tidier as you cook — running the towel over those messy areas before they dry will ensure a less stressful post-meal cleanup.
While the other two side towels should stay pretty clean throughout the cooking process and can likely be used again tomorrow, the dirty towel obviously needs to go in the laundry at the end of the night. Is that more annoying than tossing paper towels in the trash? Duh. But it's ultimately cheaper for you and less costly to the environment.
Where to Stash these Towels While Cooking
If you cook wearing an apron that ties at the waist, you're all set: Fold one side towel into quarters. Tuck that towel in the waist tie of your apron in the back. This is your dry towel for grabbing hot pan handles, pot lids, and sheet pans. Take another towel and run it through the waist tie in the front and off to one side of your body. This is your damp clean towel, for drying off your hands and rinsed produce. Take a third towel and run it through the waist tie at the other end. That's your dirty towel, for wiping spills and grease.
When you're done using the towels for a kitchen task, tuck them right back in their designated place. That way, you'll never scramble for one when a timer goes off. If you don't cook wearing an apron, just keep the towels near your workspace (be that the stove, cutting board, or sink).
Which Side Towels You Should Buy
Although three side towels are plenty for one meal, I use them so much that buying in bulk makes the most sense. I have a 15-pack of Zeppoli Classic White Kitchen Towels, which cost just over a buck per towel (but if you buy a 30- or 45-pack they're even cheaper!). Webstaurant Store, another site I love pursuing for all manner of kitchen gear, sells a 12-pack of Choice Cotton Herringbone Dish Towels for just $5.29. You'd also find versions of them at most larger kitchen and home stores, like Bed Bath and Beyond and Target.
Source: Read Full Article