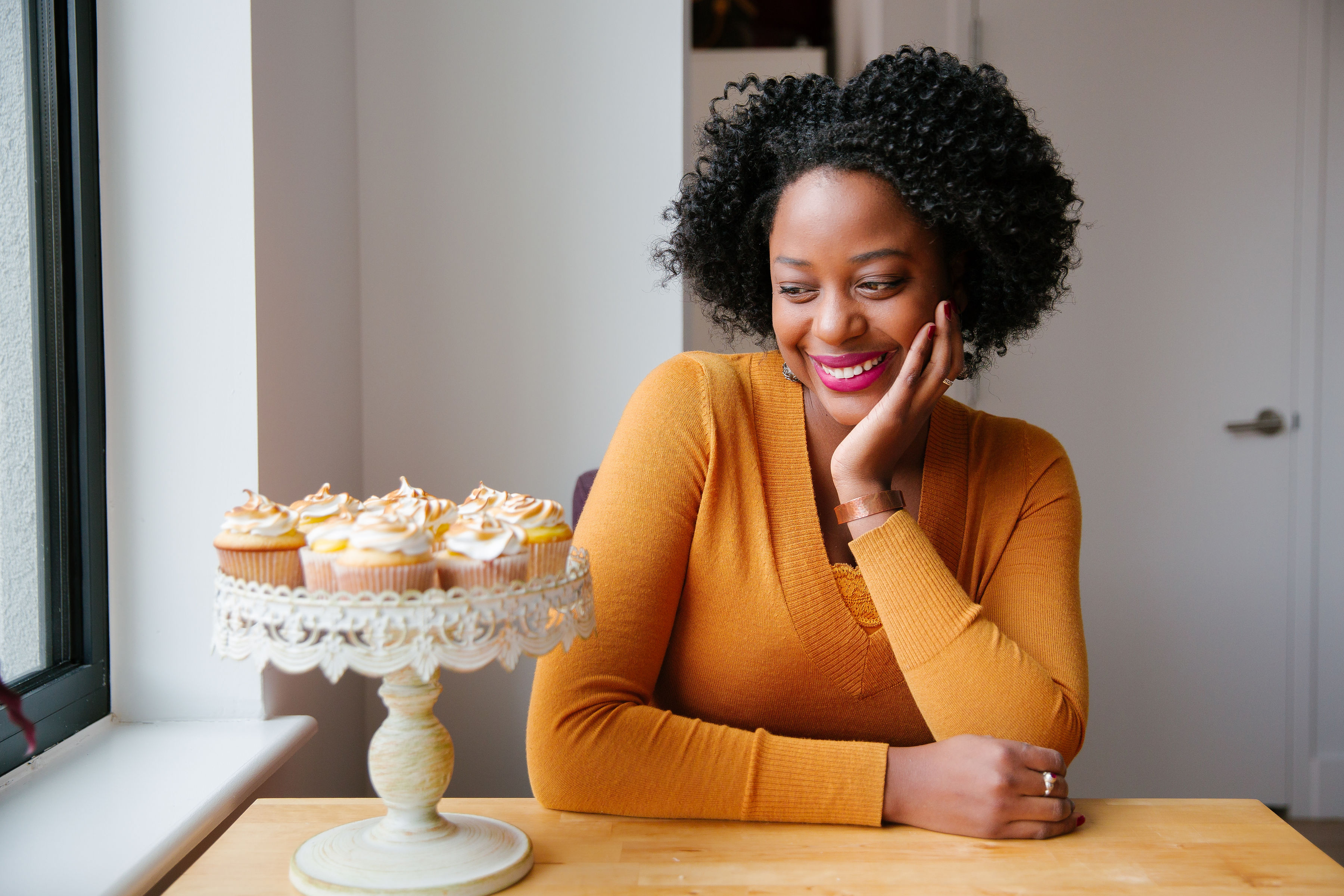 Welcome to Kitchn's series Kitchn Crush, where we highlight some of the coolest, most inspiring people in food you need to know about right now.
Vallery Lomas would like to reintroduce herself.
The lawyer-turned-baker-turned-blogger from New York City is the winner of the third season of The Great American Baking Show — but you wouldn't know that because her season never aired. Back in December 2017, her season was cancelled after the premiere, when sexual harassment allegations emerged against one of the season's celebrity judges, Johnny Iuzzini. Immediately following the scandal, all evidence of her victory was effectively scrubbed from ABC's archives, aside from a one-minute-and-thirty-second-long highlight reel.
Vallery hasn't put down her whisk just yet, though. We got a chance to chat with her to talk about why she's still baking, blogging, and betting on herself.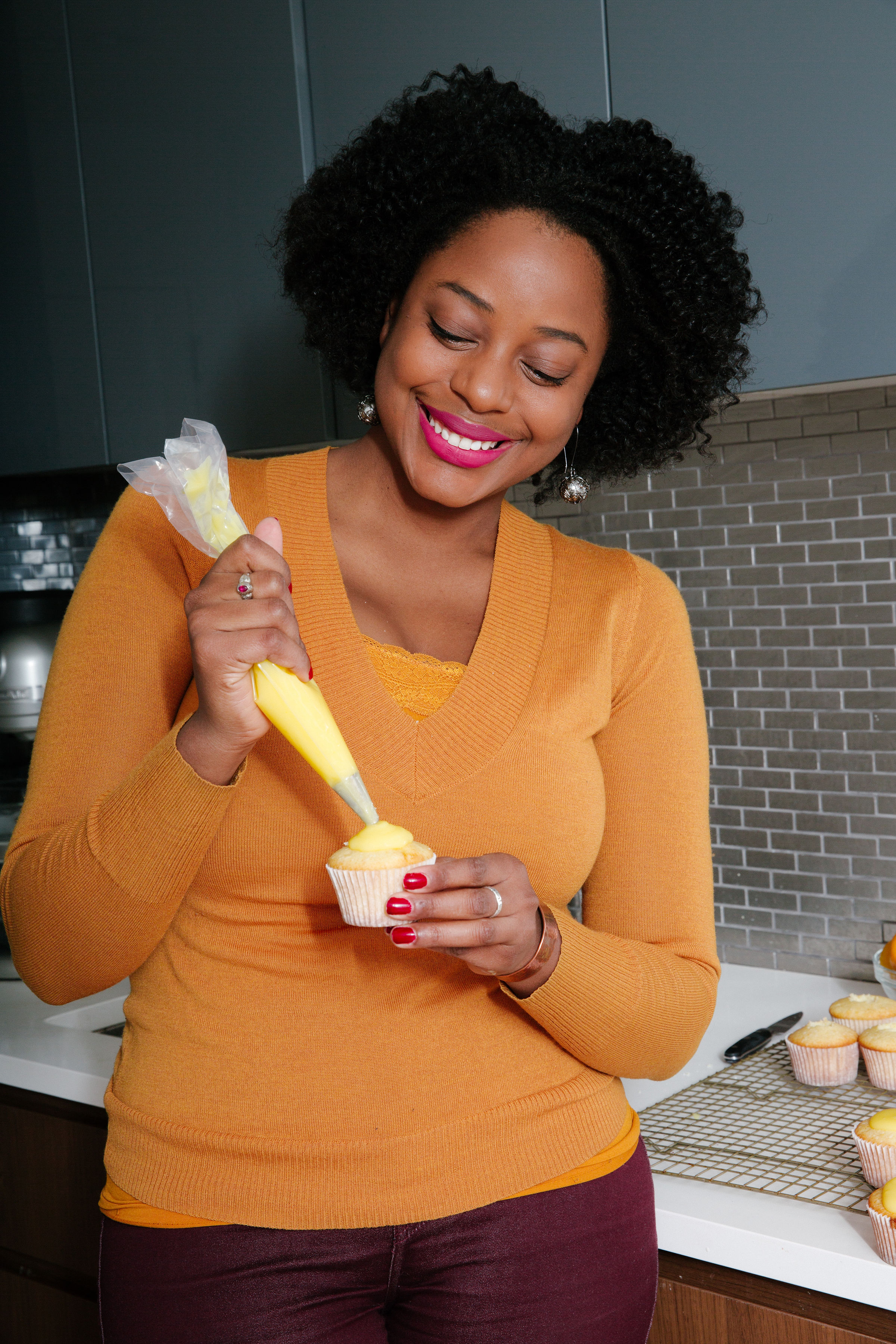 Where does your passion for baking come from?
Both of my grandmothers and my mother baked. During the holidays, we'd make all different recipes that had been passed down from generation to generation. To this day, I still make cinnamon rolls using my great-great-aunt's yeast roll recipe as a base. It's written on a recipe card that's now brown with torn edges. Baking was just part of our family traditions. I left home, went to college, and while I was in law school, which was stressful, I was looking for an outlet. So I said, I'm going to start a blog and I'm going to bake something different every day. Once I started, I felt this impulse to keep doing it.
What were the early blogging days like?
I used my first blog in 2009 to explore different recipes. It had a really cumbersome name, like forthegourmandizeinallofus.blogspot.com. Then I graduated from law school, moved to France, and started a new blog called Foodie in France in the middle of 2010. I would go to a different pastry shop every week, take a picture, and write about it.
When I moved back to New York a year later, I decided that I was going to make macarons (this was before tons of people were selling them here). So I rented commercial space in a kitchen while working as a lawyer. It got to a point where people were really loving them, but I was like, Are you going to really do this or are you going to lose your job? I wasn't ready to take that step. So that was that. I kept blogging. It became Foodie In New York. I was convinced that other than my mom and my coworkers, no one was reading it.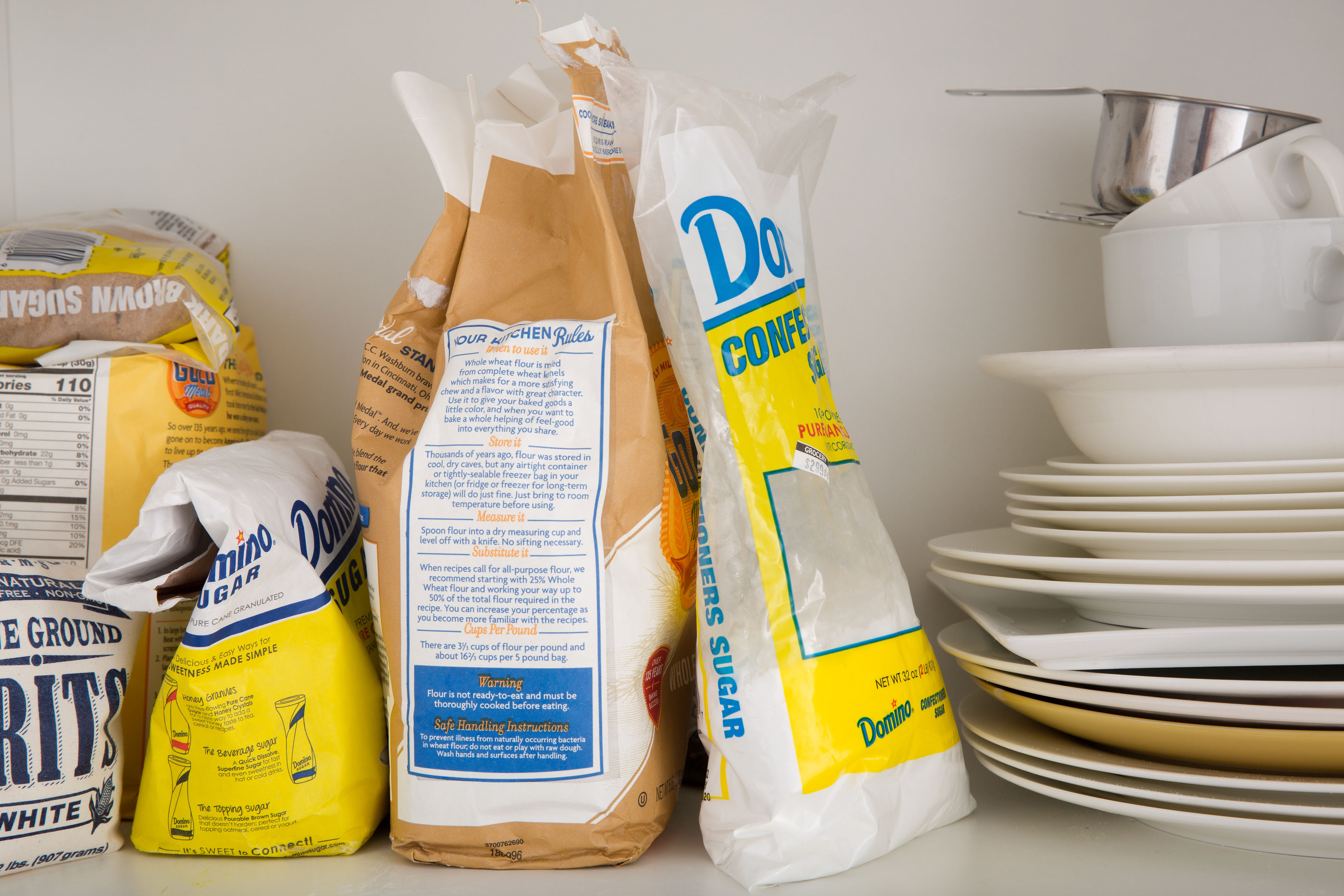 How did you land a spot on The Great American Baking Show?
Starting my Instagram really changed the game. It forced me to level up and take my photography and styling a little more seriously. Soon it became more about making beautiful, colorful things for Instagram and not so much about the blog. I started making something and shooting every day before work. I was really committed. Two summers ago, a casting agent [for the Great American Baking Show] saw my Instagram and that's how it all happened.
I did not know the show existed. I was a huge fan of the Great British Bake Off, but I did not know that there was an American version of the show. When they reached out, I was like Wow, this is airing on ABC? This is awesome! I knew I would give it my all because I already was giving it my all every morning.
What's the one thing you wish people could have seen on your season of The Great American Baking Show?
They aired one episode. The premiere. It was a double episode. And I find them so empty – void of feeling. The show was actually shot beautifully, edited beautifully, and they created these beautiful storylines. I wish people got to see the journey. The pressure isn't something that is at all normal. None of us had any experience with television. We were all home bakers. One morning you're frying doughnuts, then in the afternoon you're making puff pastry. The next day you're making a layer cake with buttercream frosting and the next you're making tuile cookies. If any little thing goes awry, you can't consult Google. It's great television. I really had to hone my intuition— and I didn't even know I had a baking intuition. I basically made an opera cake on the fly. I wanted people to see the mess-ups. Some of them were glorious, beautiful, tragic, hilarious mess-ups. They sent us the unaired episodes and I haven't been able to watch yet.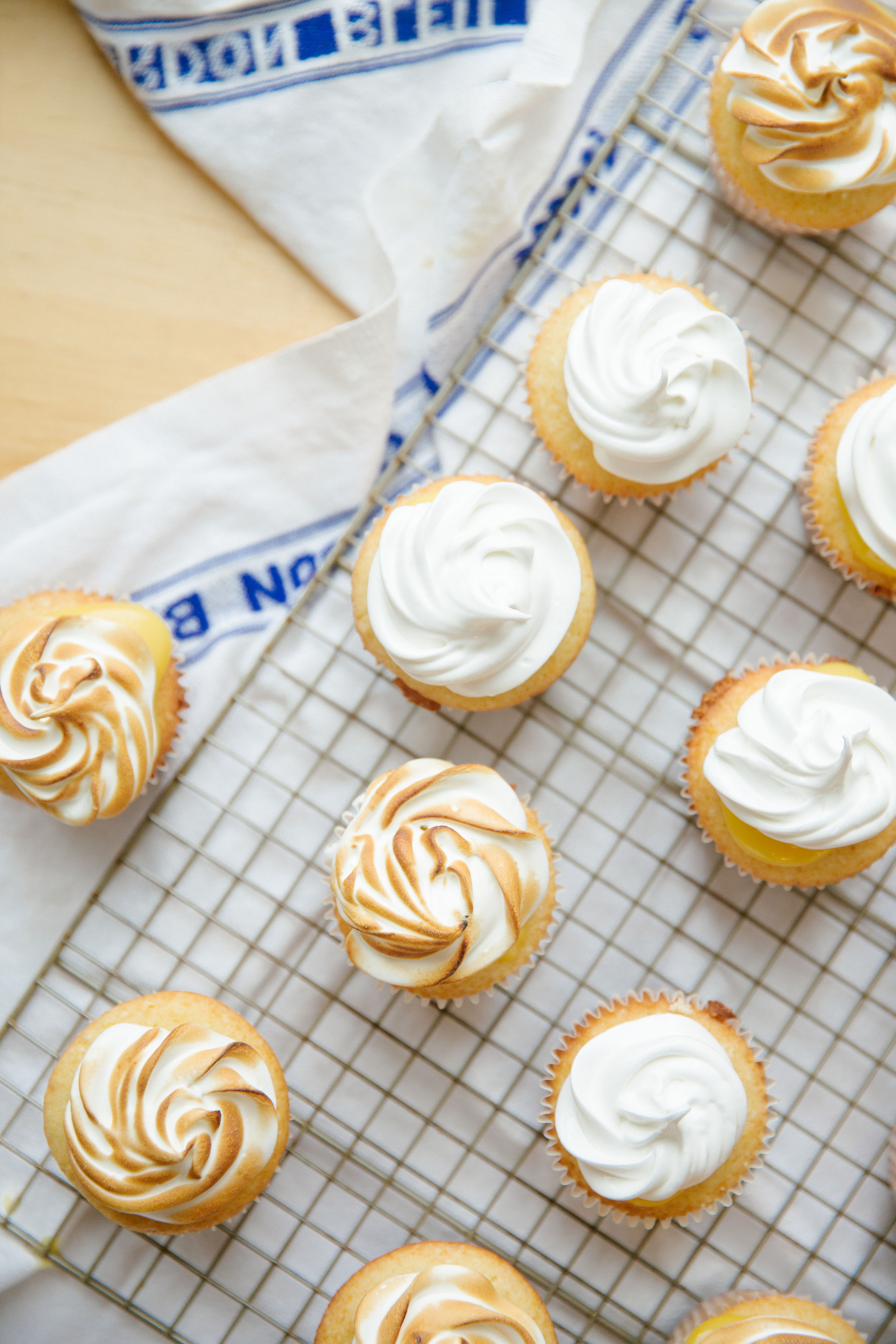 You handled the shows cancellation with such grace, when it would have probably been super easy to react differently — especially as the winner. How did you put it into perspective?
The allegation was that the judge, Jonny Iuzzini, harassed women at their workplace over years and years. I live in NYC, in Harlem, and every time I walk to the subway I am constantly cat-called. It is something that we deal with, that no one wants to deal with. I am a woman who has experienced bad conduct by men, and now this whole movement is happening that is bigger than us. At the time, I thought, you know, there will probably be some type of compensatory thing, there was nothing I could do. I was surprised at what was done, which was really not much. They chose to do a Facebook Live that they didn't even promote.
There's a laziness to it. In the case of ABC, there was a knee-jerk reaction to solve this PR crisis. The majority of the shows executive producers were women, all of the finalists and semifinalists were women. And instead of stopping a man from causing more hurt, they continued to send out a ripple effect of the hurt that one person's behavior caused. Has workplace harassment been curtailed in any meaningful way? What can we actually do to combat these issues instead of just damage control? There were so many solutions that, with any level of thought, they could have come up with something.
What's the biggest lesson that the show taught you — regardless of whether it aired or not?
It was interesting. What I learned from the show is what I learned from the show getting canceled. It doesn't matter how bad things are at a given moment, you can always bring your A-game. Even when you have the worst baking day, you can come back the very next day and bake your heart out, and make something awesome that tastes great and people love.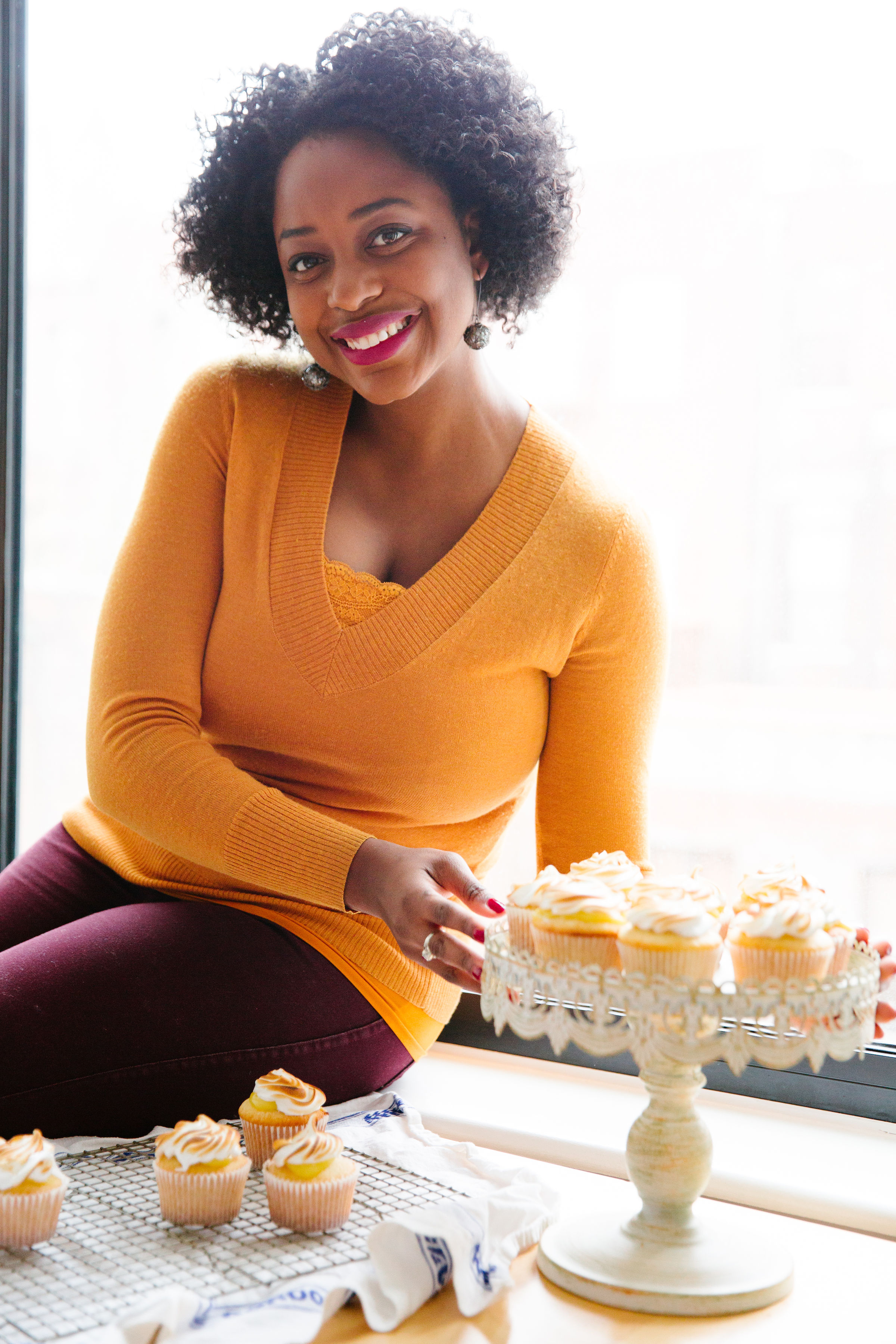 Have you talked to Johnny Iuzzini since the show?
I haven't heard from him. I wrote an email to him but I didn't press send. It's not worth it. One day, I might hit send.
You spoke at the James Beard Foundation Awards about the importance of representation in food media. What did you want to convey?
After the premiere of GABS aired, people came up to me to say things like "My daughter has natural hair, she's so excited to see someone on television that looks like her." There's not always representation in media. I was the first black person to win any iteration of the franchise in America and that was something I knew was important. Children need to see this person who looks like them, and all the pitfalls, and how you can come back the next day with your head held high. It all literally disappeared. It actually disappeared — even from the website.
When the JBF told me that the theme of the ceremony was "I rise," I was like, Wow that's really powerful. What do you rise for? It speaks to the importance of celebrating people — especially people who have traditionally been excluded from certain spaces.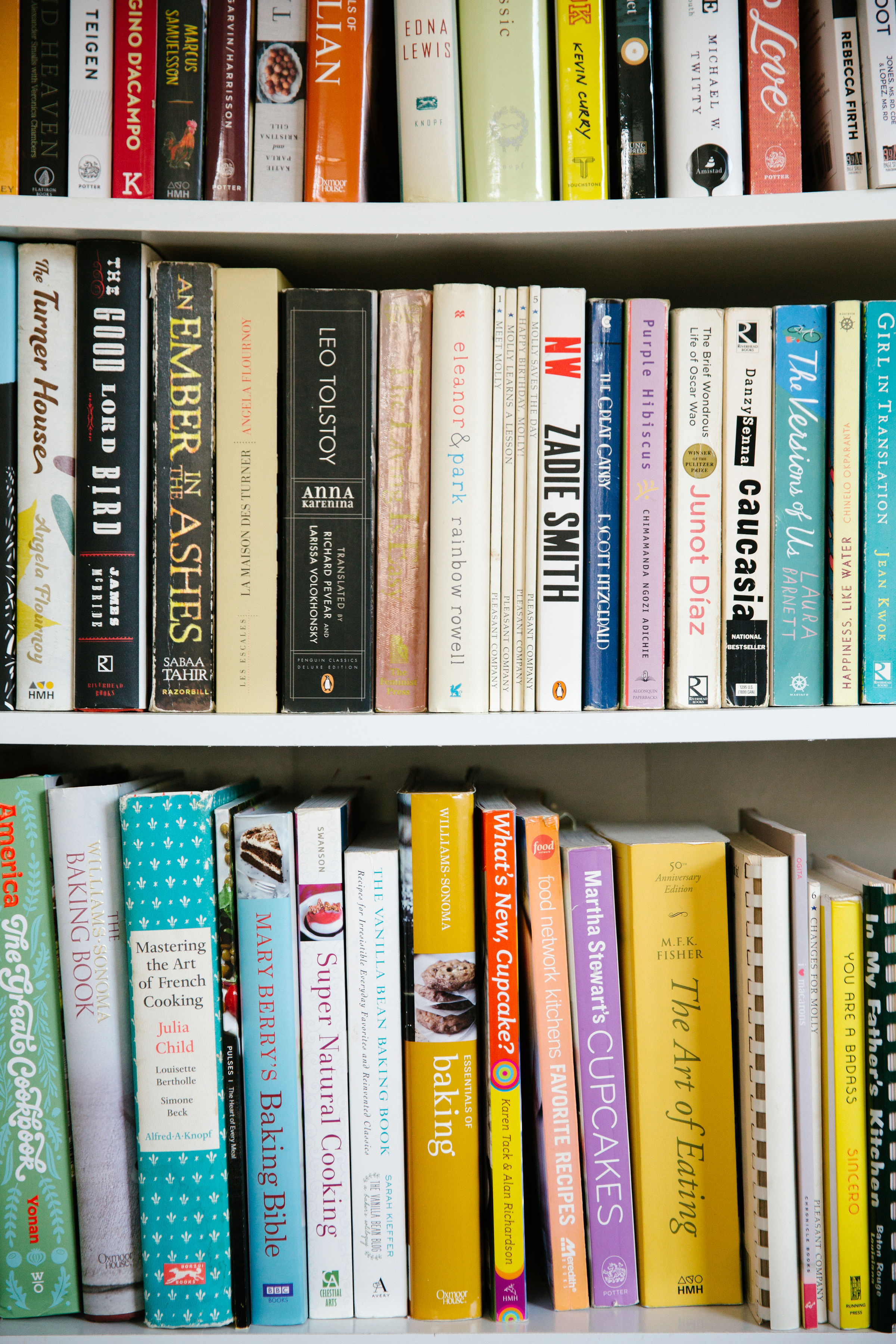 You've now quit your day job to focus on baking full-time. How has that felt?
It was an easy decision because I was looking at what I really wanted to accomplish and I wasn't there yet. I can't keep letting days and weeks go by. I have to invest in myself and put myself first. That's why I quit my job. I feel like I had to. I can't look up and have another six months pass without making progress. It's a hustle.
Your mantra is "Making lemon curd from lemons." What does that mean to you?
If what I have are lemons, then I need to go over here and find some eggs, and go over here and get to work. That's one of my philosophies about things. We can only do what we can with what we have — but part of that can be going out and getting something else.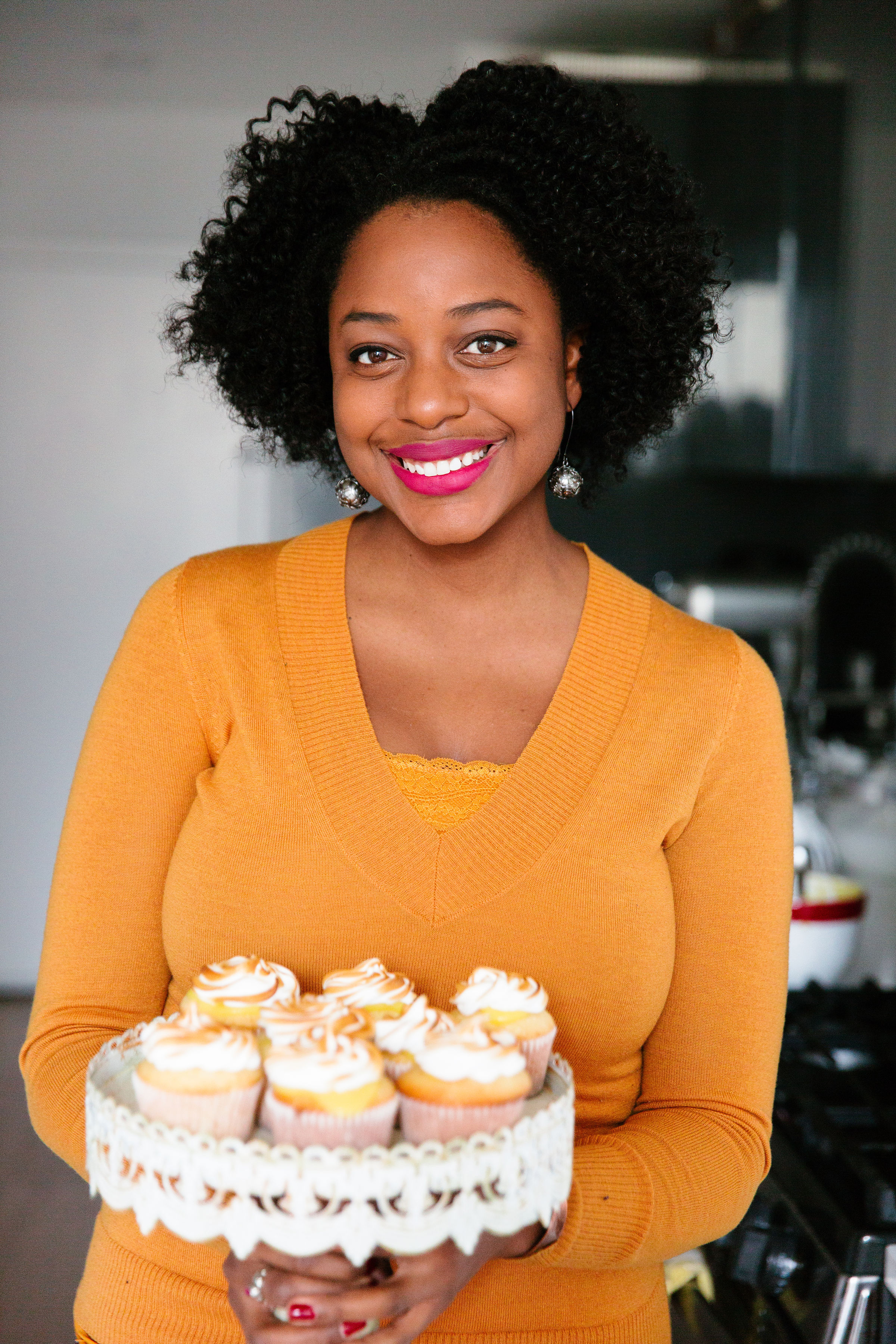 You have another catchphrase, "Whisk and wait." What do you mean by that?
I'm working towards a lot of things. I'm pursuing more media opportunities, which is a strange thing to say. It's not something that's easy to pursue, like "Oh, sign up here!" I'm just continuing to try to put myself out there. I am working on a book proposal, which is a process. Here and there I get to work with brands and develop recipes for them or do some type of demo or presentation, which is great because it allows me to pay rent.
I really feel blessed at this moment in life. I get to work on a variety of interesting things in a field that I am really passionate about.
Who are some bakers that you look up to?
I think Carla Hall is awesome. We made beignets together. She does her homework! She is so diligent; she knows more about me than I do! When you see people come across the screen, you don't what they're going to be like. But she's just so positive. She's set the blueprint from being on one of these crazy reality shows to be able to channel that into an awesome career.
Thank you, Vallery!
Source: Read Full Article