Total:

4 hr 45 min

(includes sit time)

Active:

35 min
Ingredients
Buttermilk Cheddar Corn Cakes:
Crunchy Ranch Slaw:
Directions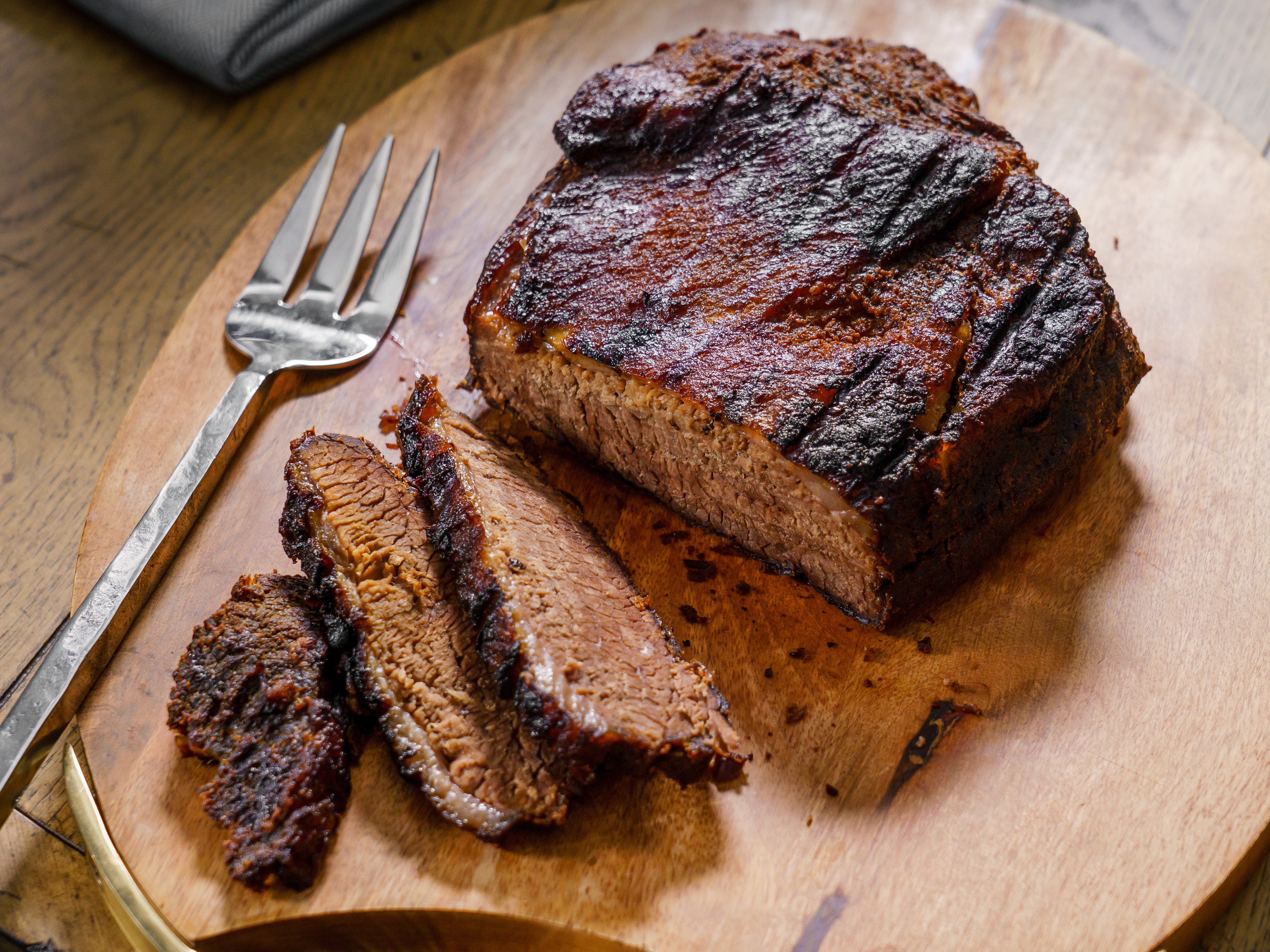 Special equipment:
Allow the brisket to come to room temperature for 30 minutes.
Combine the salt, sugar, shallots, garlic powder, smoked paprika and cayenne in a small bowl to make a dry rub. Massage the rub into all sides of the meat, being sure to use it all. Lay the brisket on a sheet pan.
Light a grill on low heat on one side, keeping the other side turned off; you should maintain a temperature of 250 to 300 degrees F the whole time you are grilling. Place the hickory chips in a foil pan. Cover with foil and cut slits in the top to release the smoke. Place the foil pan on the lit side of the grill. Place the brisket fat-side up on the turned-off side of the grill and close the cover. Cook, flipping a few times, until very tender but not falling apart and the center reaches about 200 degrees F, 3 to 4 hours. Let rest 5 to 10 minutes, then slice the brisket into thin slices across the grain. Serve over buttered toasted buns or with Corn Cakes and Crunchy Slaw.
Buttermilk Cheddar Corn Cakes:
Whisk together the flour, cornmeal, granulated sugar, baking powder and salt in a mixing bowl.
Melt the butter in a large nonstick skillet over medium heat. Set aside to cool slightly while you prepare the wet ingredients.
Whisk together the egg and buttermilk in a large mixing bowl. While whisking, pour in the melted butter and stir until combined. Stir in the dry ingredients just until combined. (Be sure not to overwork the batter.) Fold in the Cheddar, corn, if using, and chives.
Place the skillet over medium heat and add enough butter to coat the bottom. Ladle about 1/2 cup batter into the pan, spreading gently to form a thick circle. Cook until bubbles appear on the surface, 1 to 2 minutes. Flip over and cook until golden brown, about 1 to 2 minutes more. Melt a small pat of butter in the skillet in between each batch (this will help the corn cakes rise). Serve immediately, with more butter and maple syrup, if desired.
Crunchy Ranch Slaw:
Whisk together the mayo, dill, granulated sugar, vinegar, mustard, garlic powder, pepper and salt in a large bowl.
Remove the stem from the broccoli and slice thinly, then add to the bowl. Cut the crown of the broccoli into small florets and add to the bowl, along with the cabbage and fennel. Toss until the vegetables are evenly coated in the dressing. Garnish with the fennel fronds.
Serve immediately or store refrigerated in an airtight container. This recipe tastes even better the next day!
Source: Read Full Article