Chicken fried rice is the comfort dish of Chinese food. It's been around for a very long time and is also common in East, Southeast, and South Asian cuisines. The dish started as way to use leftover fried rice that has dried out some and may not be great on its own, but is still perfectly edible. The addition of oil and soy sauce and veggies and meat spruce up the rice for a delicious meal. A traditional Chinese fried rice would be made in a wok over high heat, but we've made ours in a cast iron skillet since they are more common in home kitchens. This take on the favorite is easy to make and makes the perfect lunch or dinner. Don't want chicken? Make it with shrimp or go vegetarian and make it with pineapple!
If you made this recipe, we'd love to hear from you! Leave us a comment and rating down below to let us know how you liked it.
Editor's Note: The introduction to this recipe was updated on July 24, 2020 to include more information about the dish.
Yields: 6 servings
Prep Time: 0 hours10 mins
Total Time: 0 hours40 mins
Ingredients
2 tbsp. extra-virgin olive oil
3 chicken breasts (about 1 1/2 lb.)
Kosher salt
Freshly ground black pepper
2 tbsp. sesame oil, divided
1 medium onion, chopped
2 carrots, peeled and diced
3 cloves garlic, minced
1 tbsp. freshly minced ginger
4 c. cooked white rice (preferably leftover)
3/4c. frozen peas
3 large eggs, beaten
3 tbsp. low-sodium soy sauce
2 green onions, thinly sliced
This ingredient shopping module is created and maintained by a third party, and imported onto this page. You may be able to find more information about this and similar content on their web site.
Directions
In a medium skillet over medium heat, heat olive oil. Season chicken with salt and pepper on both sides, then add to skillet, and cook until golden and no longer pink, 8 minutes per side. Remove from skillet and let rest 5 minutes, then cut into bite-sized pieces.
To the same skillet, heat 1 tablespoon sesame oil. Add onion and carrots and cook until soft, 5 minutes, Add garlic and ginger and cook until fragrant, 1 minute more. Stir in rice and peas and cook until warmed through, 2 minutes.
Push rice to one side of skillet and add remaining tablespoon sesame oil to other side. Add egg and stir until almost fully cooked, then fold eggs into rice. Add chicken back to skillet with soy sauce and green onions and stir to combine.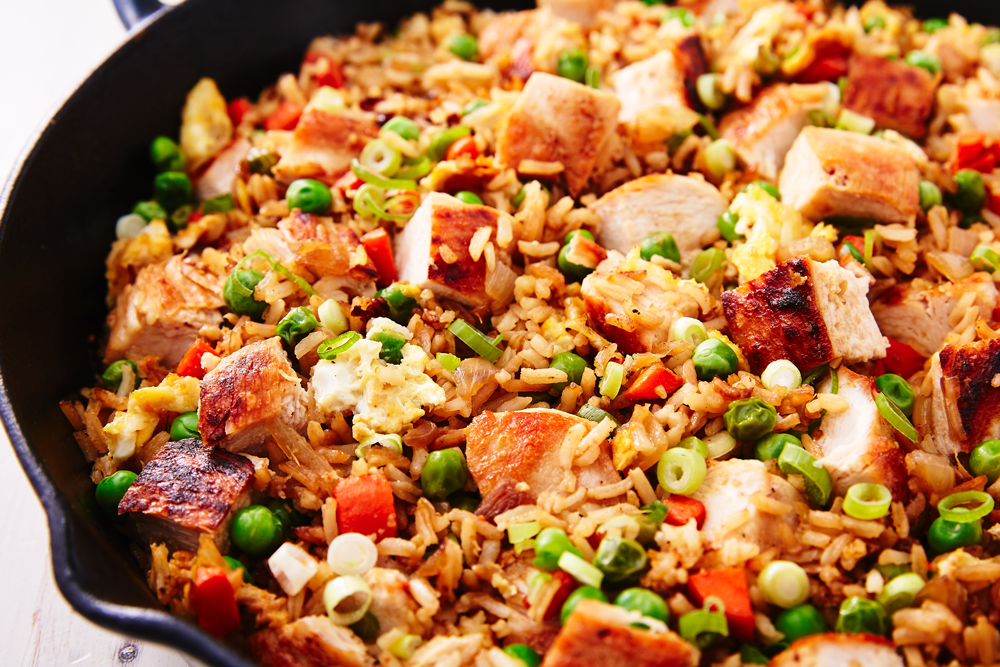 Source: Read Full Article