Total:

2 hr 20 min

(includes rising times)

Active:

25 min
Ingredients
Directions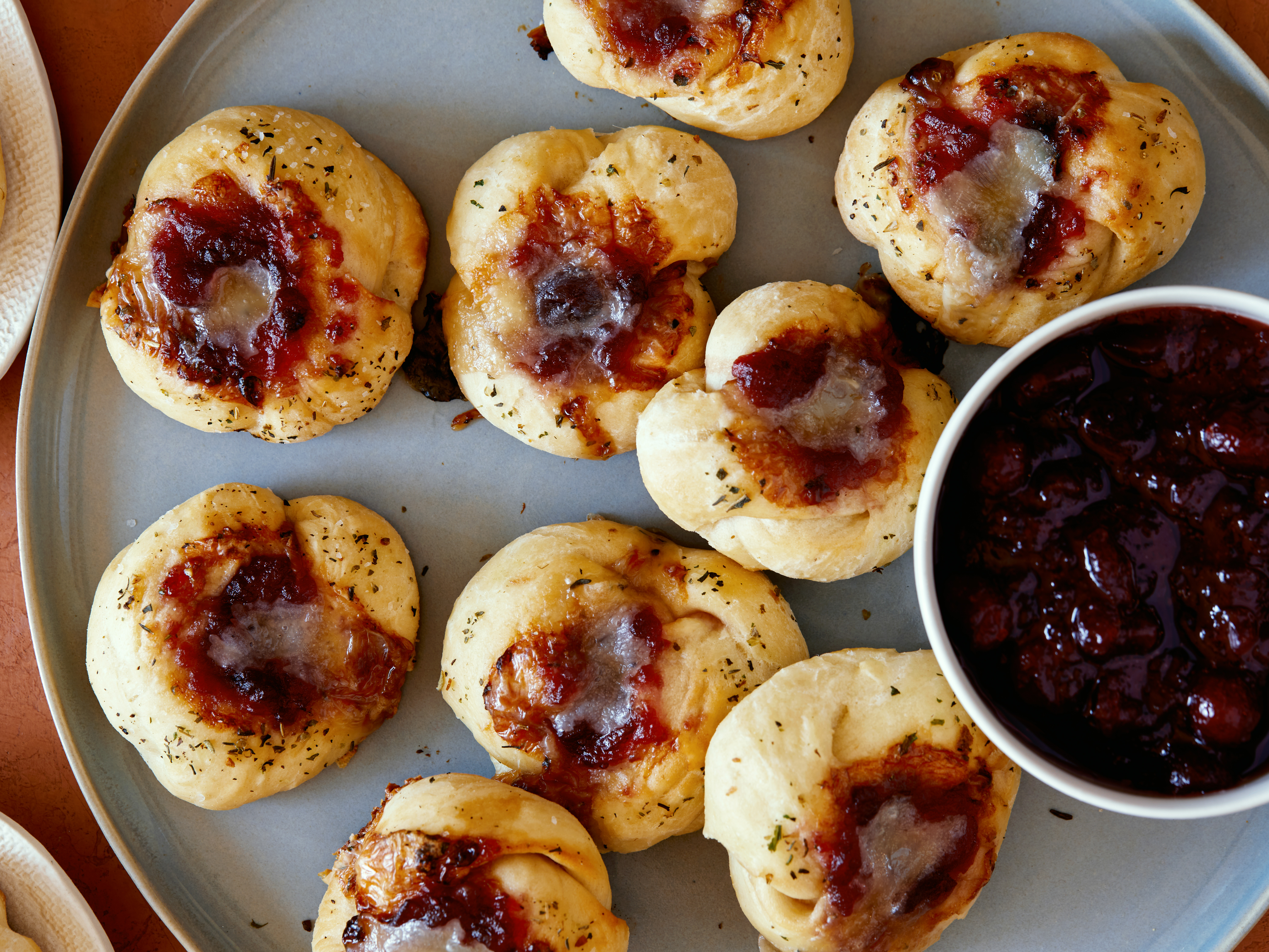 Brush the bottom of a rimmed baking sheet with 1 tablespoon olive oil and place the pizza dough on top. Brush the top of the dough with the remaining 1 tablespoon olive oil and cover lightly with plastic wrap. Let rest at room temperature until just about doubled in size, 1 hour.
Cut off the rind from the sides of the Brie wheel, then cut the Brie into 18 equal-sized cubes. Set aside. 
Lightly flour a work surface. Using floured hands, shape the dough into an 18-by-4-inch-rectangle. Using a pizza cutter or sharp knife, cut the dough into eighteen 1-inch-wide strips. 
Shape each strip into a 10-inch-long rope and tie into a knot, tucking the two ends of the rope underneath it. Divide the knots between two baking sheets and let rest until slightly puffed, 40 to 45 minutes.  
Meanwhile, position the oven racks in the upper and lower thirds of the oven and preheat to 425 degrees F.  
Cut a small slit in the top of each knot with a sharp paring knife and use your fingers to create a small well. Spoon a heaping 1/4 teaspoon cranberry sauce into each well and top with 1 piece of Brie. Reserve the remaining cranberry sauce for serving. 
Brush the tops of the knots with 4 tablespoons of the butter. Sprinkle with the Italian seasoning, 1/2 teaspoon salt and a few grinds of black pepper. Bake until the cheese is melted, and the dough is fully cooked and turning light golden, 20 to 25 minutes. Let rest for 10 minutes before serving.  
Meanwhile, stir together the remaining cranberry sauce and 2 tablespoons butter in a small bowl. Serve with the knots for dipping.  
Cook's Note
Starting with room-temperature pizza dough makes it easier to work with.
Source: Read Full Article