Total:

30 min

Active:

30 min
Ingredients
1/4 cup all-purpose flour
Kosher salt and freshly ground black pepper
Four 6-ounce boneless, skinless chicken breasts 
4 tablespoons vegetable oil
1 small onion, chopped
2 cloves garlic, minced
4 ounces cream cheese, cut into chunks
1 cup half-and-half
One 5-ounce package baby spinach (about 4 cups)
One 14-ounce can artichoke hearts, drained and quartered
Steamed rice, for serving
Directions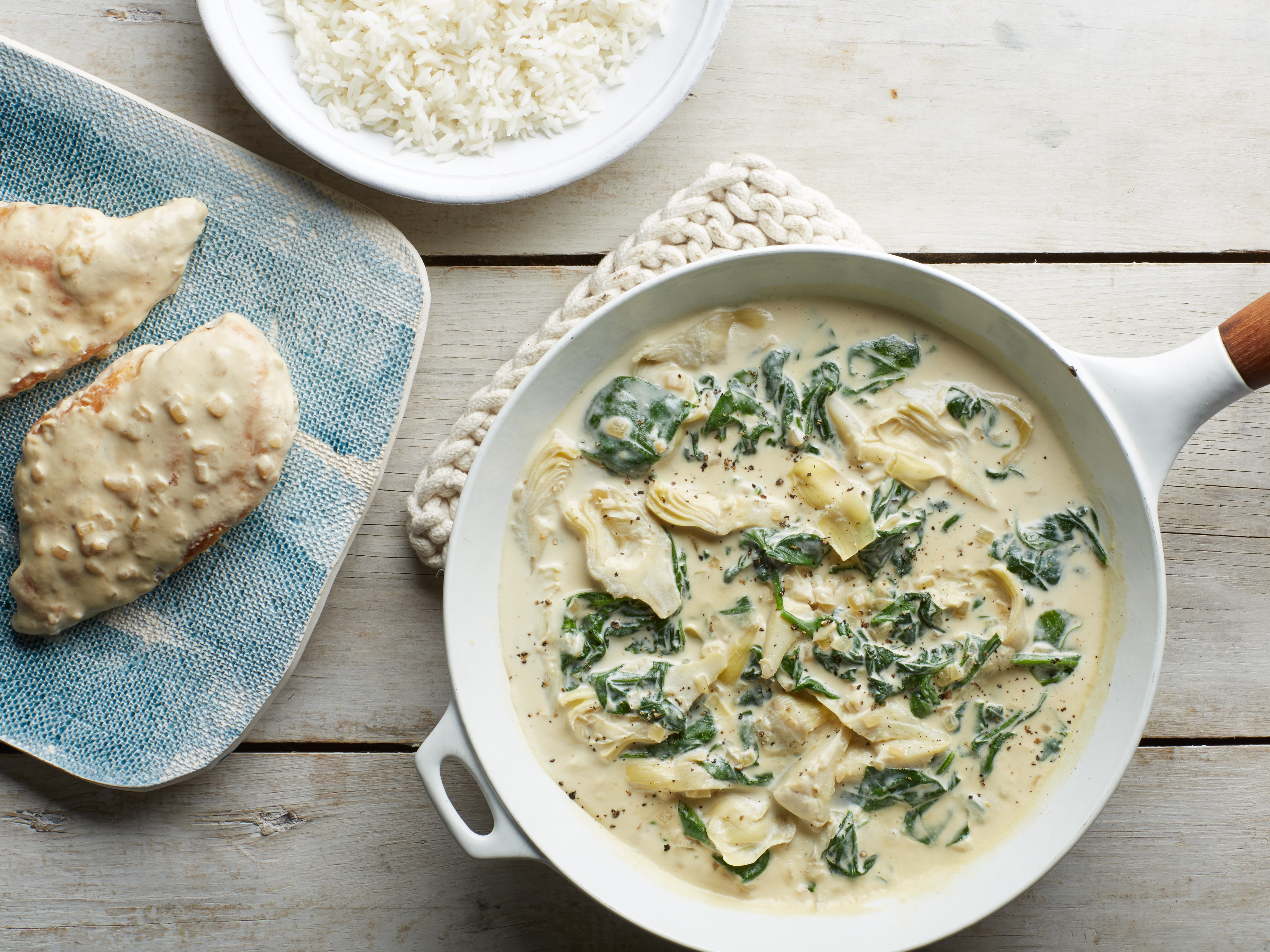 Whisk together the flour, 1 tablespoon salt and a few grinds of pepper in a pie plate or shallow dish. Coat both sides of the chicken breasts in the seasoned flour. Shake off any excess and set aside.
Heat 3 tablespoons of oil in a large, heavy-bottomed skillet over medium-high heat. Add the chicken and cook, undisturbed, until deeply golden, about 4 minutes (do not turn). Remove the chicken to a plate. Add the remaining tablespoon oil to the skillet. Add the onion and cook, stirring occasionally, until it begins to soften, about 5 minutes. Add the garlic and cook, stirring, until fragrant, about 30 seconds. Add the cream cheese and stir until melted. Pour in the half-and-half and use a wooden spoon to scrape up any brown bits from the bottom of the skillet. Season with salt and pepper. Add the chicken back to the skillet, seared-side up, reduce the heat to medium, cover and cook, turning about halfway through, until an instant-read thermometer inserted into the thickest part of the chicken reaches 165 degrees F, 12 to 14 minutes. 
Transfer the chicken to a serving platter. Add the spinach to the sauce in the skillet, cover and cook until wilted, about 5 minutes. Stir in the artichoke hearts and cook until heated through, about 1 minute. Season with salt and pepper. Pour the creamy sauce over the chicken. Serve with steamed rice. 
Source: Read Full Article