Total:

45 min

Active:

25 min
Ingredients
1 tablespoon olive oil
5 medium carrots, cut into 1/4-inch-thick diagonal slices 
3 large stalks celery, cut into 1/2-inch-thick slices
2 cloves garlic, minced 
1 large yellow onion, cut into a large dice
Kosher salt and freshly ground black pepper
One 3-pound whole chicken
One 3-inch piece ginger, halved lengthwise (optional)
6 ounces extra-wide egg noodles (about 4 cups)
2 tablespoons fresh dill fronds, roughly chopped  
Directions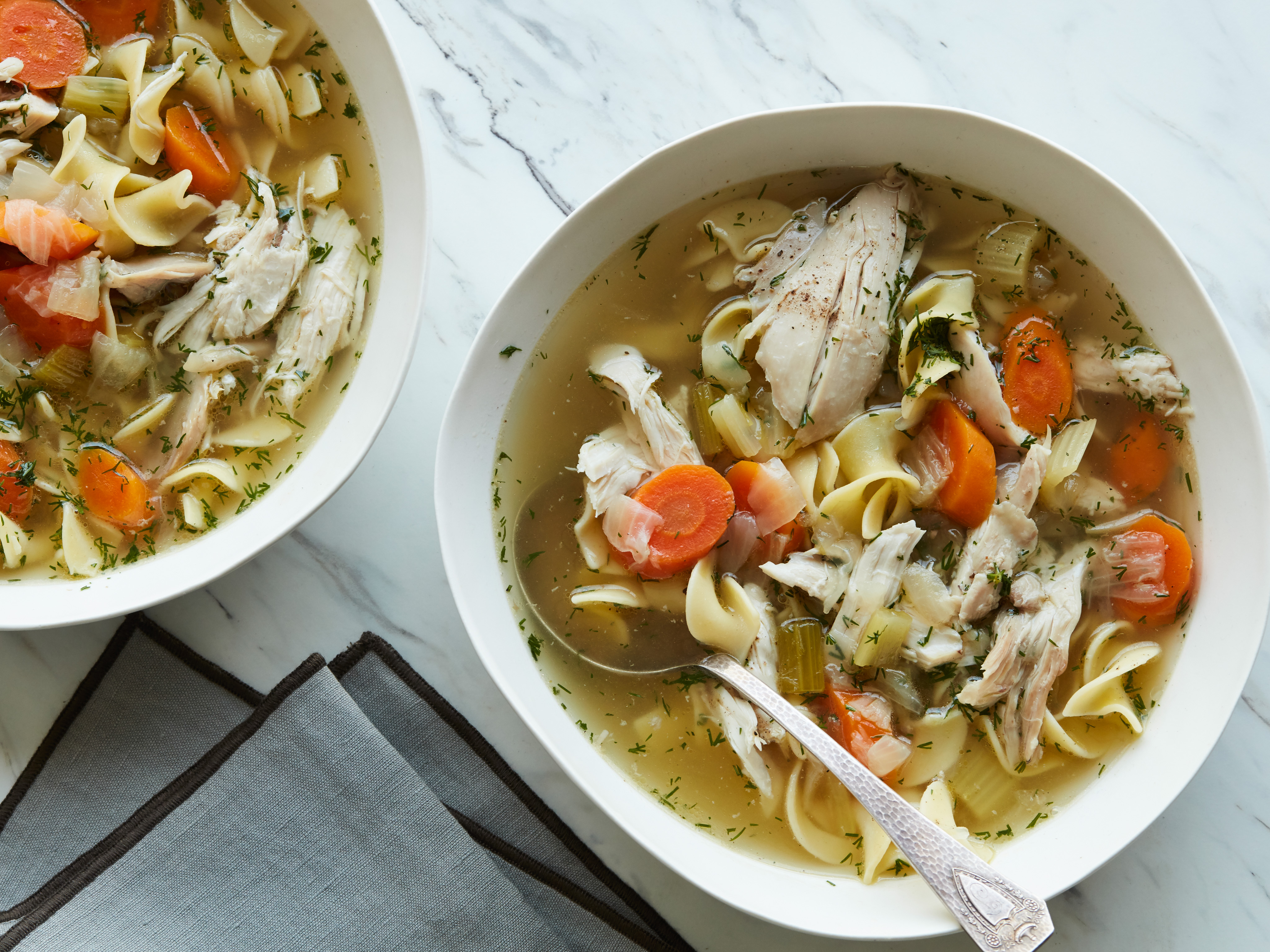 Special equipment:
Turn a 6-quart Instant Pot® to the high sauté setting. Add the oil and once hot add the carrots, celery, garlic, onion, 1 tablespoon salt and a large pinch of pepper. Cook, stirring, until the vegetables are slightly softened, 4 to 5 minutes.
Add the chicken, ginger, if using, and 8 cups water. Follow the manufacturer's guide for locking the lid and preparing to cook. Set to pressure cook on high for 20 minutes.  
After the pressure cook cycle is complete, follow the manufacturer's guide for quick release and wait until the quick release cycle is complete. Be careful of any remaining steam, unlock and remove the lid. Remove the ginger and discard. Use a pair of tongs to remove the chicken from the pot and put into a large bowl and allow to cool for several minutes. 
Switch the Instant Pot® to the high sauté setting and bring the soup to a boil. Once at a boil, add the noodles and cook until al dente, 4 to 5 minutes.
While the noodles are cooking, use 2 forks to remove the skin and bones from the chicken and shred the meat into bite-size pieces. Season the chicken generously with salt and pepper then add the meat back to the pot along with the dill. Season the soup with additional salt and pepper if needed. 
Source: Read Full Article