Total:

1 hr 35 min

(includes soaking and chilling times)

Active:

25 min
Yield:

6 servings

Nutrition Info

Nutritional Analysis

Per Serving

Calories

107 calorie

Total Fat

4.5 grams

Saturated Fat

2 grams

Cholesterol

9 milligrams

Sodium

198 milligrams

Carbohydrates

14 grams

Dietary Fiber

3 grams

Protein

5 grams

Sugar

7 grams
Ingredients
Directions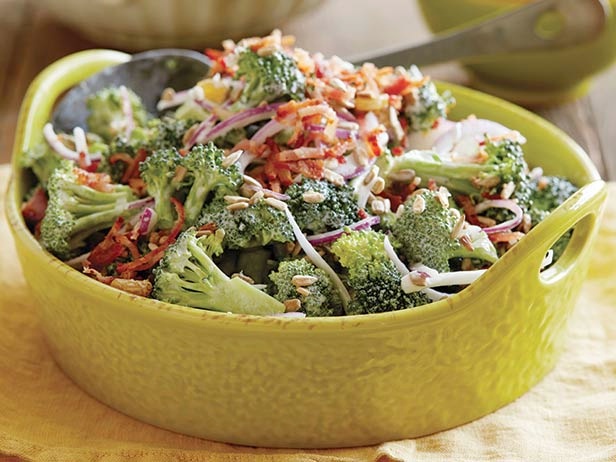 Combine the ice cubes, onions and 1 cup water in a small bowl. Let the onions soak for 10 minutes while preparing the rest of the salad, then drain and pat dry.
Cook the bacon in a small nonstick skillet over medium-low heat until crispy, about 8 minutes. Transfer to a paper-towel-lined plate to drain, reserving 1 teaspoon drippings for the dressing. Finely chop the bacon strips and reserve. 
Whisk the buttermilk, sour cream, lemon zest and juice, reserved bacon drippings, 3/4 teaspoon salt and pepper to taste in a large bowl. Add the broccoli, onions and golden raisins to the dressing. Toss well, cover and chill for at least 1 hour and up to 4 hours.
Before serving, toss well and season with additional salt and pepper. Transfer to a serving dish and top with the chopped bacon and sunflower seeds.
Source: Read Full Article