Total:

4 hr

(includes rising time)

Active:

25 min
Ingredients
Rolls:
Flavored Butters:
Directions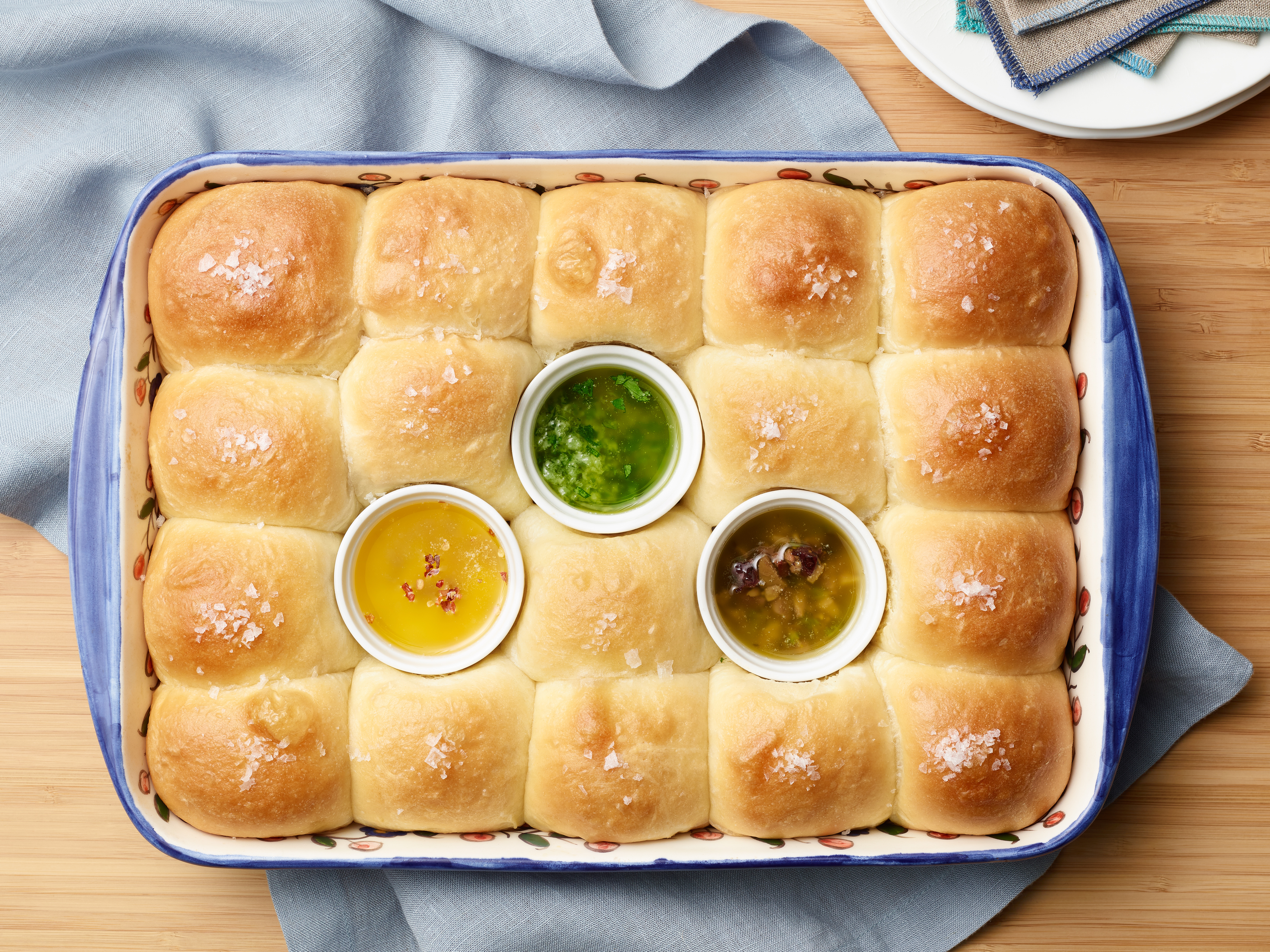 For the rolls: Combine 1/2 cup of the milk, the sugar and yeast in the bowl of a stand mixer fitted with a dough hook. Let stand until foamy, about 5 minutes. Add 9 tablespoons of the butter, half of the flour, half of the remaining milk and the kosher salt. Mix on medium speed until combined, about 1 minute. Add the egg and mix until combined. Add the remaining flour and milk. Knead on medium-high speed until the dough is smooth and pulls away from the bowl, about 6 minutes.
Melt the remaining 7 tablespoons of butter. Transfer 2 tablespoons to a small bowl and set aside to brush on the rolls after they are baked.   
Brush a large bowl with some of the remaining melted butter and add the dough. Cover with plastic wrap and set aside in a warm place until doubled in size, about 2 hours.  
Brush a 9-by-13-inch baking dish and the outside of three 4-ounce ramekins with melted butter. Place the ramekins so they are evenly spaced in the baking dish. Divide the dough into 17 equal pieces (about 2 1/2 ounces each). Gently roll each piece into balls. Arrange them in the baking dish around the ramekins. Generously brush each roll with some of the remaining melted butter and sprinkle with the flaky sea salt. Cover with plastic wrap and set aside in a warm place until about 50 percent bigger, about 45 minutes.  
Meanwhile, arrange a rack on the lower third of the oven and preheat to 375 degrees F. 
Bake until the rolls are golden and the internal temperature reaches 200 degrees F, 20 to 25 minutes, rotating the pans halfway through. Remove from the oven and brush the rolls with the reserved 2 tablespoons butter.  
For the flavored butters: While the baking dish is still hot, place 4 tablespoons of the butter in each ramekin. Add the parsley and garlic to one ramekin. Add the Parmesan and red pepper flakes to another ramekin. Add the olives and thyme to the last ramekin. Gently stir the butter and flavorings to combine. 
Cook's Note
When measuring flour, we spoon it into a dry measuring cup and level off excess. (Scooping directly from the bag compacts the flour, resulting in dry baked goods.) 
Source: Read Full Article