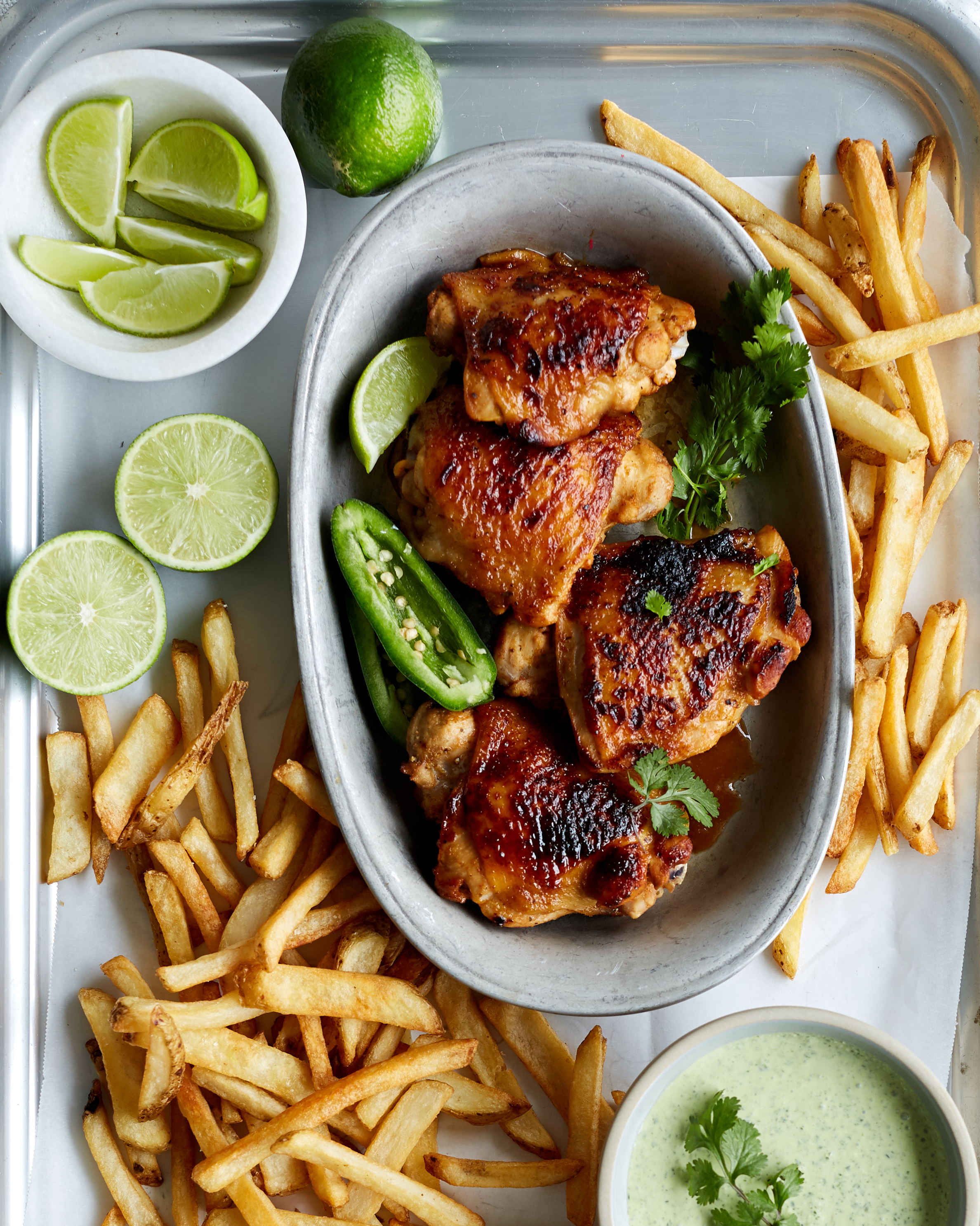 If you like your chicken with golden, crackly skin and extra-juicy meat, you've come to the right place. Peruvian roasted chicken is exactly that, which is likely why it's become so popular over the past few years.
While there are restaurants and fast-casual spots popping up all over the country devoted to it, our homemade version is so easy that you'll quickly be convinced to make it yourself. There are countless variations — all served with a mix of flavorful sauces — but we opted for a creamy green sauce made with familiar, easy-to-find ingredients, so that you can put this dish on your weeknight roster.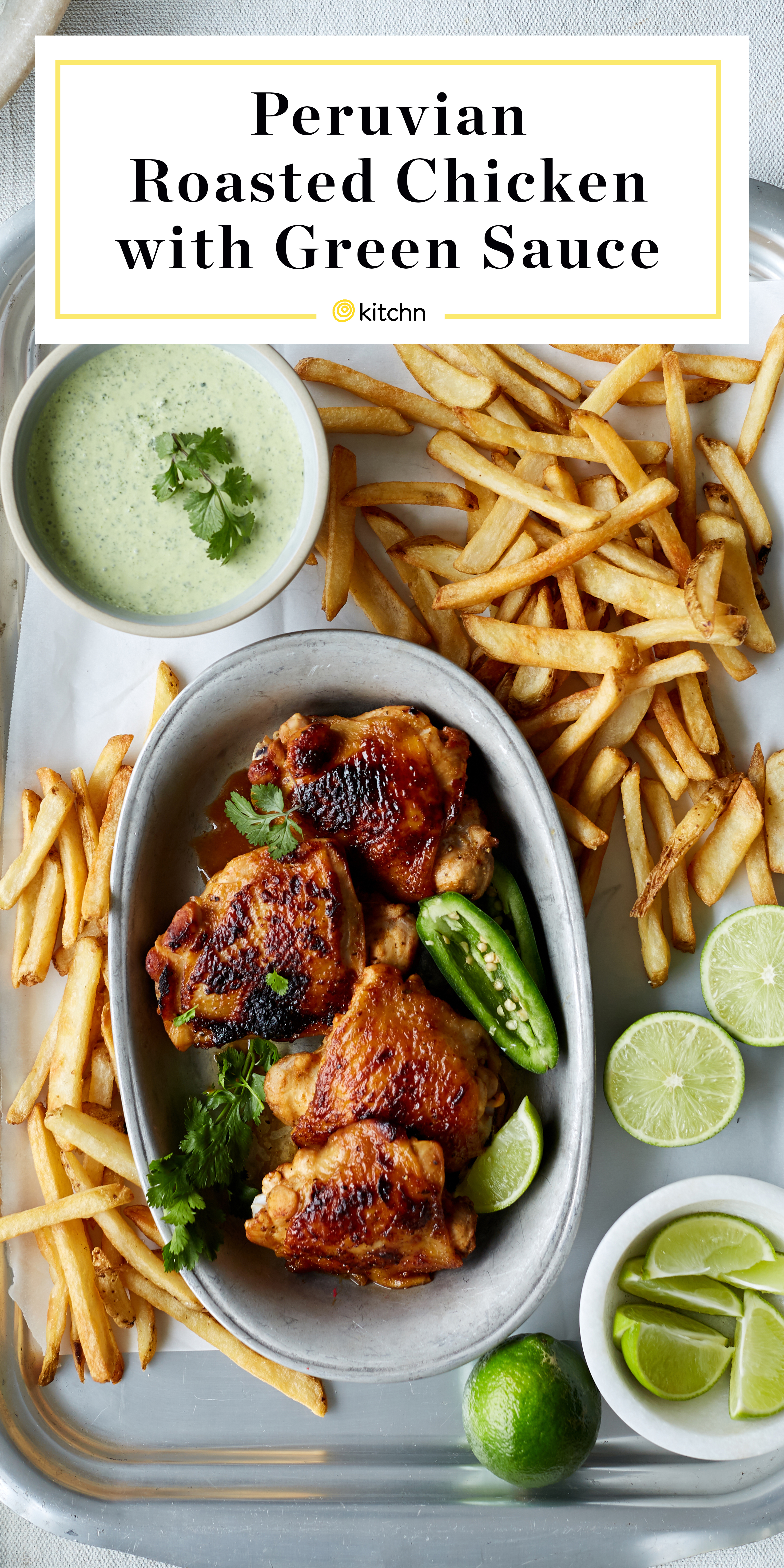 A Quick Marinade + Your New Favorite Green Sauce
There's no one way to make great Peruvian-style chicken, but most recipes do agree on a few things: The meat should be well-spiced, and the skin should be golden-brown. For that reason, this isn't the time to reach for boneless, skinless chicken breasts. While a whole chicken split into pieces is often used, we're reaching for chicken thighs to make the recipe extra weeknight-friendly.
A simple marinade of lime juice, olive oil, garlic, paprika, cumin, and dried oregano flavor the meat. It's got so much punch that you really only need to let it mingle with the chicken for an hour, but you can also let it sit in the fridge overnight if you're looking to get ahead. Then it's just a quick roast in the oven while you prepare a creamy green sauce.
Whirl cilantro, yogurt, jalapeños, lime juice, olive oil, and a bit of feta for extra tang in a blender until smooth and serve it alongside the chicken for drizzling and dunking. You'll have more sauce than you need, but that's not a bad thing. It lasts for up to a week in the fridge and is a versatile condiment to use on grain bowls, roasted vegetables, eggs, fish, steak, and more.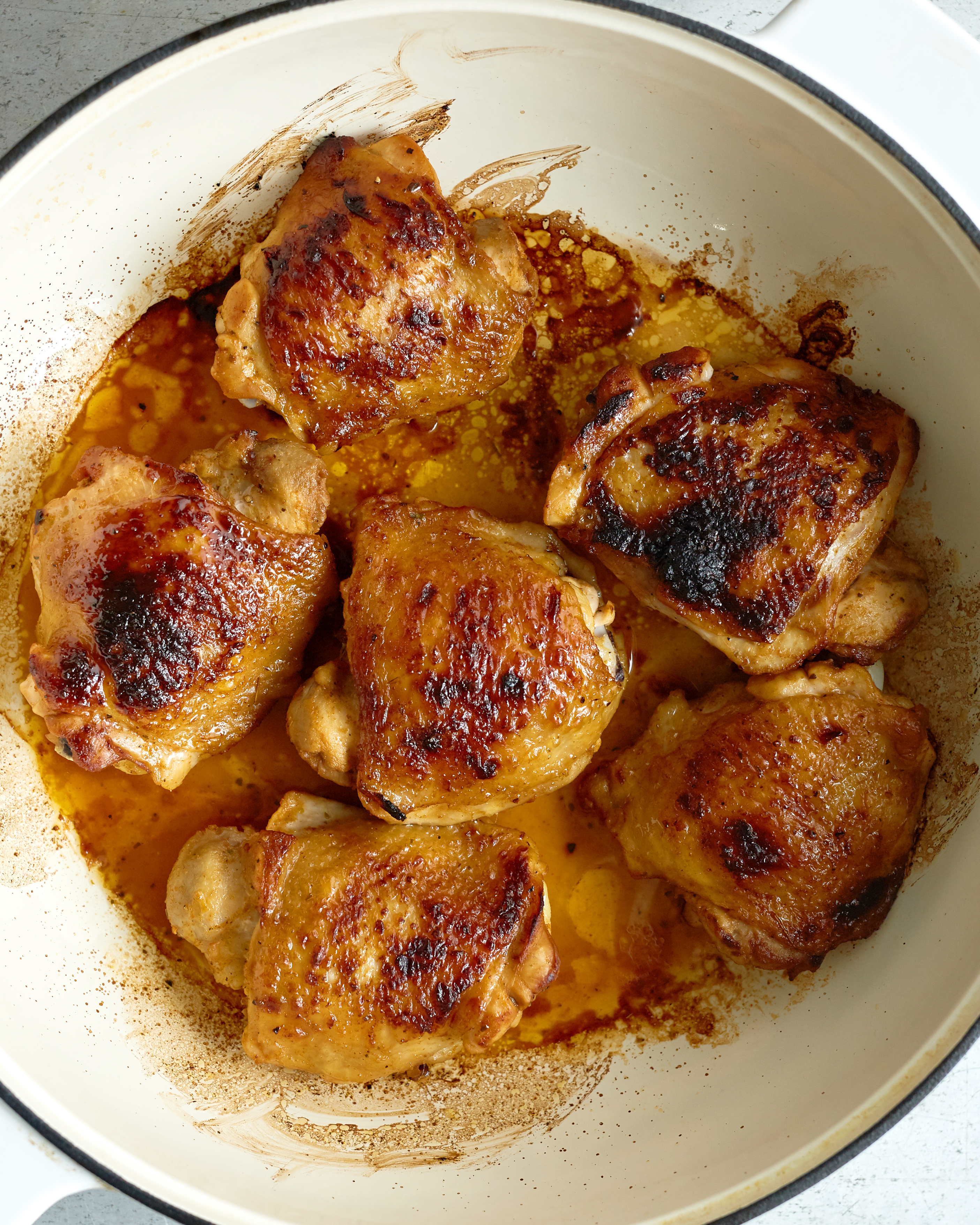 Peruvian Roasted Chicken with Green Sauce
Ingredients
For the chicken:
1/4

cup

freshly squeezed lime juice (from 2 medium limes)

3

tablespoons

olive oil

3

cloves

garlic, minced

1

tablespoon

ground cumin

1

tablespoon

paprika

1

teaspoon

kosher salt

1/2

teaspoon

freshly ground black pepper

1/2

teaspoon

dried oregano

2

pounds

bone-in, skin-on chicken thighs (4 to 6 thighs)
For the green sauce:
1

cup

packed cilantro leaves and tender stems

1/3

cup

whole-milk plain Greek yogurt

2

ounces

feta cheese, crumbled (about 1/2 cup)

2

medium jalapeños, seeded and coarsely chopped

1

clove

garlic, coarsely chopped

2

tablespoons

freshly squeezed lime juice (from 1 medium lime)

1

tablespoon

extra-virgin olive oil

1/2

teaspoon

kosher salt
Instructions
Combine the lime juice, olive oil, garlic, cumin, paprika, salt, pepper, and oregano in a large zip-top bag. Add the chicken thighs, seal the bag, and shake to evenly coat in the marinade. Refrigerate for at least 1 hour or up to overnight.

Arrange a rack in the top third of the oven (about 6 to 8 inches from the broiler element), and heat to 425°F.

Remove the chicken from the marinade, shaking excess marinade off. Arrange skin-side up in single layer in a baking dish.

Roast until the chicken is cooked through and registers an internal temperature of 165°F, about 30 minutes. Meanwhile, make the green sauce. Place all the ingredients in a blender or food processor and blend until smooth. Transfer to a small bowl.

When the chicken is ready, turn on the broiler and broil until the chicken skin is golden-brown and crispy, 2 to 4 minutes. Serve the chicken with the green sauce.
Recipe Notes
Make ahead: The green sauce can be made a day ahead and stored in an airtight container in the refrigerator.
Storage: Leftover chicken can be stored in an airtight container in the refrigerator for up to 3 days. Leftover green sauce can be stored in an airtight container in the refrigerator for up to 5 days.
Styling by Ayda Robana
Source: Read Full Article