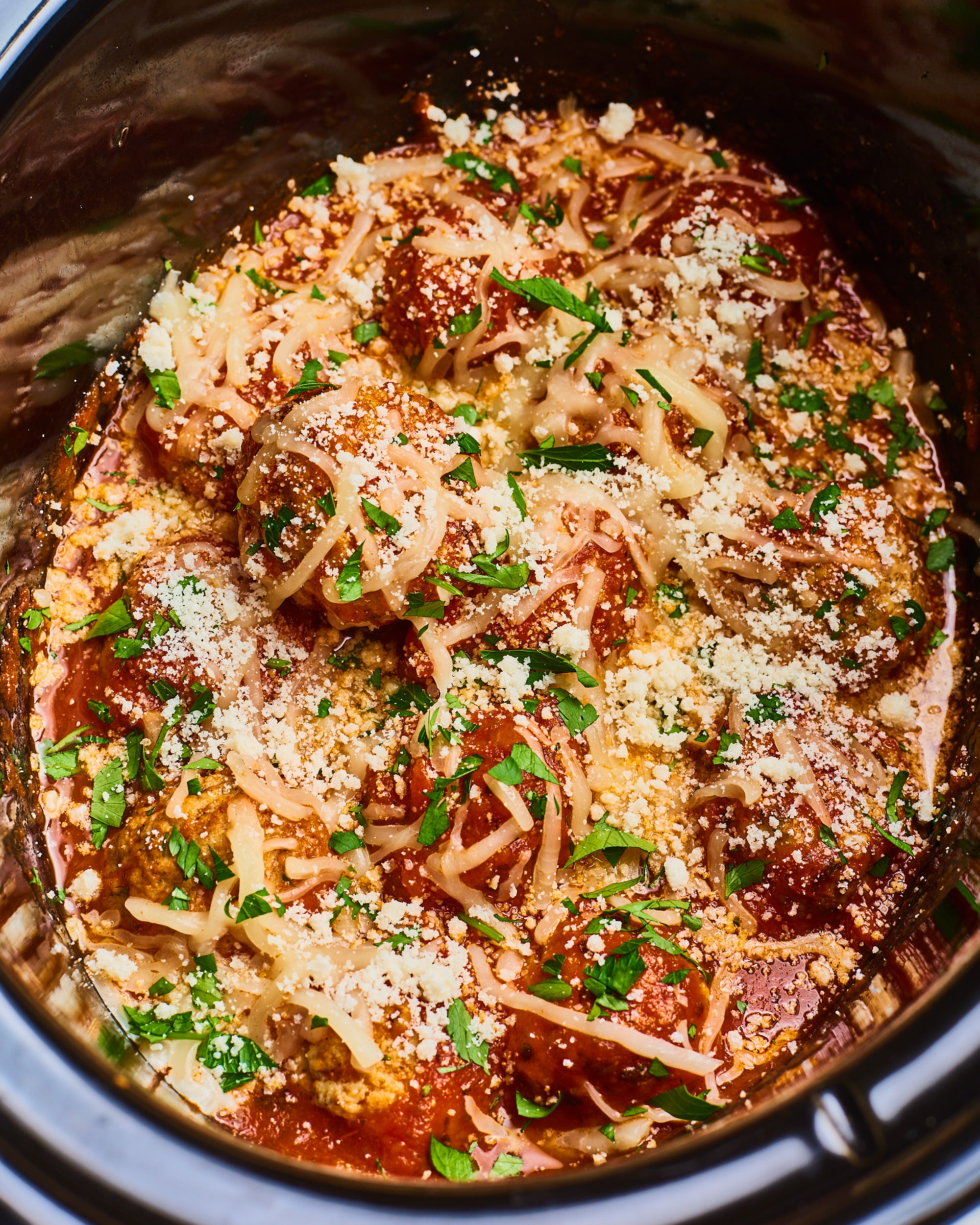 You'll want to have the pasta or Italian bread ready for this one. That's because this super-easy slow cooker dinner begs for something to sop up all its ridiculously saucy goodness. This meal is as lazy as it gets, thanks to a couple of Trader Joe's shortcuts and your trusty slow cooker.
A Easy Italian Dinner, Thanks to Just 3 Ingredients
This simple recipe is proof that precooked meatballs are worth keeping in your freezer. When combined with marinara sauce and lots of mozzarella cheese, they transform into a meaty main that will excite everyone in the family. How you serve this comforting meal is up to you, although we highly suggest stuffing the meatballs inside bread rolls for meatballs subs, or simply spooning them over spaghetti.
Trader Joe's Slow Cooker Meatball Parm
Ingredients
1

(26-ounce) jar

Trader Joe's Trader Giotto's Tomato Basil Marinara Sauce

1

(16-ounce) bag

Trader Joe's Frozen Flame Broiled Turkey Meatballs

1

(16-ounce) bag

Trader Joe's Shredded Mozzarella Cheese

Grated Parmesan cheese, for serving (optiona)

Pasta or sub rolls, for serving (optional)
Instructions
Pour half of the marinara sauce into the bottom of a 6-quart or larger slow cooker. Place the meatballs on the sauce in a single layer, then pour the remaining sauce on top.

Cover and cook until the meatballs and sauce are warmed through, 1 to 1 1/2 hours on the LOW setting.

Sprinkle the mozzarella cheese evenly over the top. Cover again and cook until the cheese is melted, about 15 minutes more. Serve with grated Parmesan over pasta or in sub rolls, if using.
Recipe Notes
Storage: Leftovers can be stored in an airtight container in the refrigerator for up to 3 days
Source: Read Full Article