Total:

1 hr 10 min

Active:

35 min
Ingredients
Kosher salt
3 tablespoons extra-virgin olive oil, plus more for brushing
1 3/4 cups grated Parmesan
2 pounds large square cheese ravioli
2 large eggs, beaten
1 1/2 cups pizza sauce
2 cups grated low-moisture mozzarella
1 cup cooked, crumbled Italian sausage
3/4 cup sliced pepperoni
1 red bell pepper, diced
8 white button mushrooms, thinly sliced
1/4 red onion, thinly sliced
2 ounces sliced deli ham, chopped
1 cup fresh basil, shredded
Directions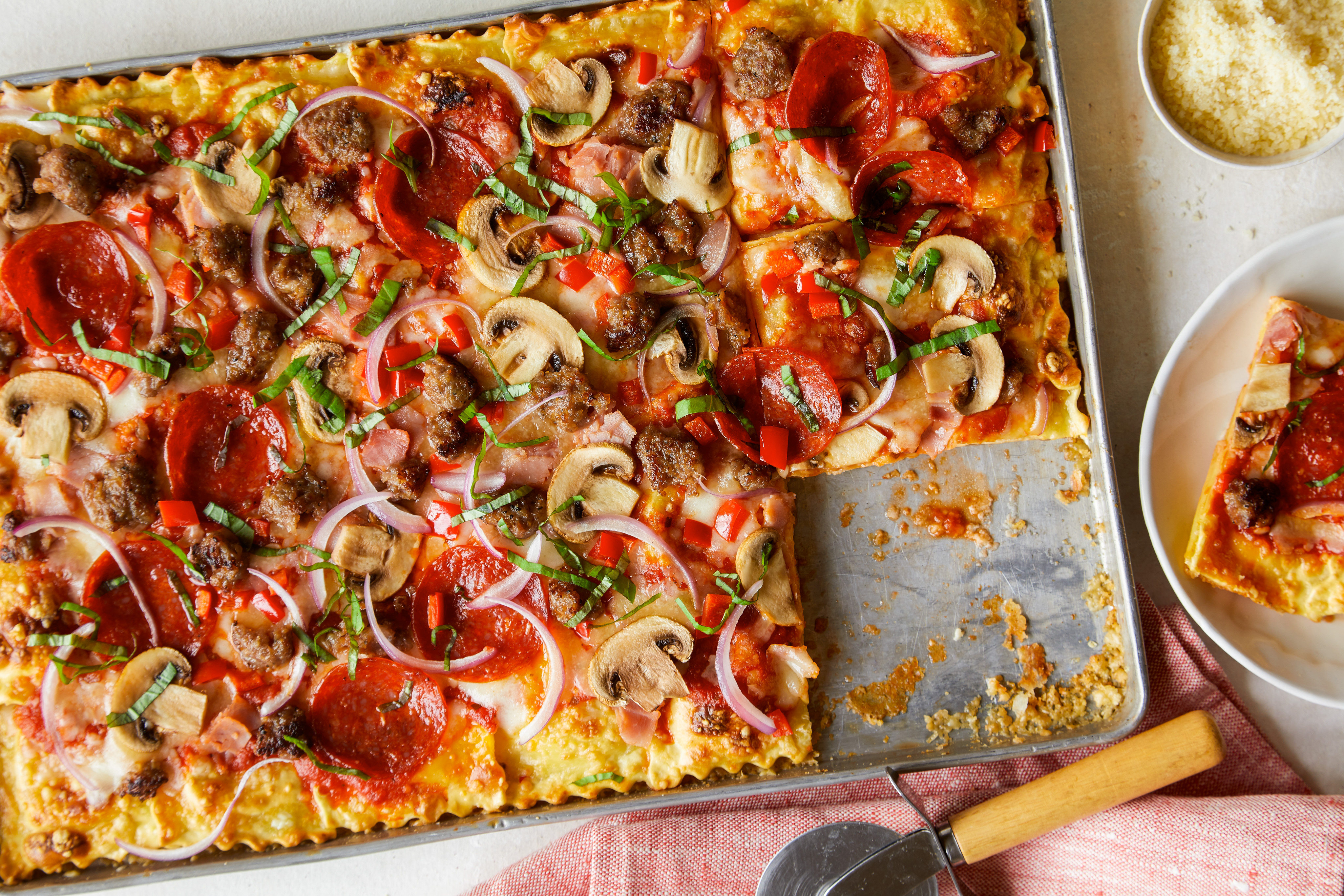 Special equipment:
Move an oven rack to the bottom position and preheat to 425 degrees F. Bring a large pot of salted water to boil for the pasta. Brush a rimmed half-sheet pan with olive oil and coat the bottom and sides with 1/2 cup grated Parmesan.
Cook the ravioli until al dente, 1 to 2 minutes less than the package cooking time. Drain and pat dry. Toss the ravioli in a large bowl with the eggs, olive oil, 1/2 cup grated Parmesan and 1/2 teaspoon salt. Arrange the ravioli on the sheet pan in a single layer with only the edges overlapping. Sprinkle with 1/2 cup Parmesan.
Bake the ravioli until golden brown and the tops and bottoms are crisp, about 25 minutes.
Preheat the broiler. Spread the pizza sauce on the ravioli crust. Sprinkle with the mozzarella and the remaining 1/4 cup Parmesan. Top with the sausage, pepperoni, bell pepper, mushrooms, onion and ham. Broil until the cheese is browned and bubbly, about 3 minutes. Scatter the basil over the top before serving.
Source: Read Full Article